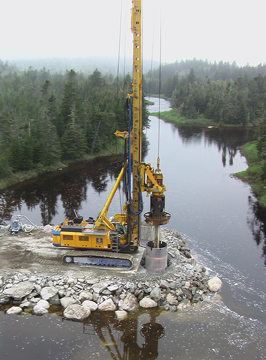 Bauer Fondations Canada
on the Route 1 Gateway Project
Last year, Bauer Foundations Canada has been awarded by Dexter Construction the execution of bored piles for bridges on the Route 1 Gateway Project around the city of Saint John, New Brunswick.
Four bridges had to be founded on piles with a permanent casing of a diameter of 2,000 mm. The pile length varied between 8 m to 66 m. All piles were socketed into bedrock with a maximum strength around 200 MPa.
The piling work has been performed with a BG40 from backfilled platform as well as trestles. This part of the project was completed in August 2011.
The Government of New Brunswick is undertaking major improvements to Route 1. Once complete, the Route 1 Gateway Project will see the construction of 55 km of new four-lane highway and selected upgrades along existing sections of Route 1. Construction work on the project is expected to be completed by July 31, 2013.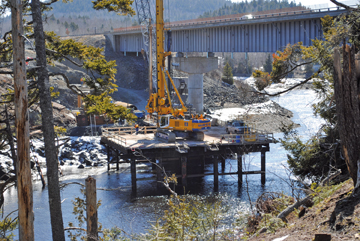 While the construction stimulus of this project will present new employment opportunities in New Brunswick, the improved infrastructure will also support long-term economic growth in the province and in Atlantic Canada.
Route 1 serves as a major trade corridor between Atlantic Canada and the Eastern United States. It is the most direct link to a new border facility in St. Stephen – Calais which is Atlantic Canada's busiest international land border crossing.
Upgrades to Route 1 will foster continued economic growth and support a sustainable multimodal transportation system with enhanced connections to many of Atlantic Canada's deep sea ports, rail network and international airports.
The Route 1 Gateway Project is jointly funded by the federal and provincial governments.
Source: Bauer Foundations Canada Inc.,
Government of New Brunswick