Atlas Copco Launches Redesigned Dynapac Website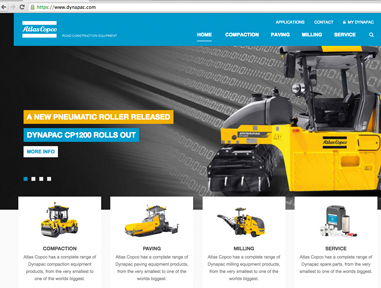 Atlas Copco Construction Equipment recently launched its redesigned road construction equipment website, Dynapac.com.
The new site gives contractors and dealers an easily navigable, one-stop source for information and support for its complete line of compaction and paving equipment. In addition to browsing product information, visitors can complete a wide range of tasks, from finding used equipment and training materials to ordering brochures, manuals and parts.
Dynapac.com gives users access to Atlas Copco's Construction App and Shop Online system. Atlas Copco's Construction App combines social media content, product information, and videos they can view anytime, anywhere.
The app works with Apple and Android devices. The Shop Online program is a one-stop-shop for contractors, dealers and rental center managers to place and track parts orders.
The website also makes it easy for visitors to learn more about Atlas Copco products and support.