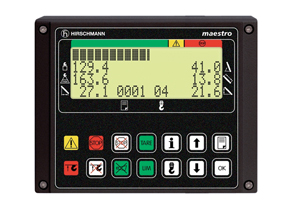 New Load Moment Indicator from Hirschmann
Hirschmann Automation and Control (PAT) has extended its product range with Hirschmann maestro, load moment indicator (LMI) upgrade. This new system consists of a central unit, console and a range of accessories. The Hirschmann maestro provides a user-friendly and cost-effective modernization of old PAT LMIs. The Hirschmann maestro was developed to modernize systems currently installed on boom trucks and hydraulic cranes thus providing the latest technology for these older cranes.
Retrofit of the Hirschmann maestro includes just four steps. The central unit is replaced with a compact unit designed for easy installation in the operator's cab, console, and hydraulic pressure transducers. The original data and load chart information is then loaded into the central unit and, after a brief sensor alignment through the console, the crane is then ready for operation in just half a day, without needing to be re-calibrated. Ultimately, the original length and angle sensor, the A2B switch and the electrical wiring from the old LMI system can be utilized. The Hirschmann maestro also provides the option of incorporating wireless sensors into the LMI.
This ensures that modernization of an older PAT LMI with the Hirschmann maestro is significantly more cost-effective and faster than any other alternative.