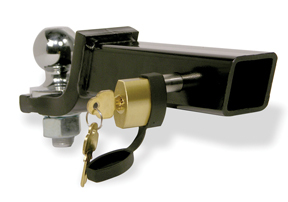 So Quiet, You Can Hear a Hitch Pin Drop
Softride, Inc. proudly introduces the QuietRide Tightening Hitch Pin with Lock, first in a new line of innovative products designed to make heavy equipment towing safer, quieter and more secure. The QuietRide eliminates the rattle and noise from loose fitting ball mounts and safeguards your trailer and cargo by preventing removal of the ball mount from the receiver. This way, contractors and their crews can concentrate on their construction projects instead of worrying about their trailer or cargo.
It does not matter if you're towing an equipment trailer, a cement mixer, a generator or even another vehicle, the QuietRide's unique design will improve the towing experience and protect both tow vehicle and payload. Designed for 2-in receivers, the Tightening Hitch Pin with Lock features a rubber cage that secures a nut inside the ball mount. A stainless steel bolt cinches the nut securely to the side of the receiver eliminating the "slop" found in most hitch designs.
The Tightening Hitch Pin with Lock also protects the vehicle's drive train and reduces stress on critical components such as the vehicle frame, receiver hitch, ball mount and trailer coupler.
The QuietRide includes an integral lock for added security. Manufactured from stainless steel and brass, this lock has successfully passed the American Standard for Testing Materials (ASTM) B117 test.
Source: Softride, Inc.