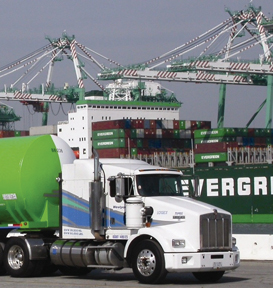 Kenworth To Produce
Liquefied Natural Gas Vehicles
Kenworth Truck Company will expand its presence in the growing market for environmentally friendly, liquefied natural gas (LNG) vehicles by beginning production of Kenworth T800 LNG trucks at its manufacturing facility in Renton, Wash., in 2009. Under an exclusive agreement with Westport Innovations Inc. in Vancouver, B.C., Kenworth will use Westport's LNG fuel system technology adapted for the Cummins ISX 15-liter engine.
"The Kenworth T800, equipped with a Cummins ISX and Westport's HPDI fuel system, offers an industry-leading solution with world-class low emissions and greenhouse gases, while delivering outstanding horsepower, torque, and efficiency comparable to a diesel engine," said Bob Christensen, Kenworth general manager and PACCAR vice president. "Kenworth is recognized as a technology leader in the commercial vehicle market and the exclusive ability to offer this technology reinforces Kenworth's reputation as The World's Best."
"This agreement with Kenworth creates a dramatic increase in LNG truck delivery capacity and further strengthens Westport's ability to efficiently meet the significant growth in market demand for environmentally clean LNG trucks from the ports and other fleet customers," said Michael Gallagher, president and chief operating officer of Westport Innovations.
The Kenworth LNG factory installation coincides with the Ports of Los Angeles and Long Beach announcement to approve a new $1.6 billion Clean Truck Superfund. The fund will assist replacing many of the 16,800 Class 8 trucks serving the ports with LNG-powered vehicles. The ports have also introduced a new progressive ban that will remove all pre-2007 trucks by 2012. Westport's LNG fuel system is the only alternative fuel technology currently qualified for financial support under the ports' Clean Truck program.
Kenworth and Westport Innovations have previously collaborated on an aftermarket basis to equip Kenworth T800s with LNG fuel systems. These trucks are already serving the Ports of Los Angeles and Long Beach. In addition, Pacific Gas & Electric Company in San Francisco recently became the first utility in the nation to operate Kenworth T800 LNG-powered trucks.
Westport will open a new LNG Fuel System Assembly Center in British Columbia to support the Kenworth factory initiative and to rapidly increase production capacities of LNG fuel systems to meet growing market demand. The Westport Assembly Center will facilitate significant capability for fuel system assembly and engine conversions for delivery direct to the Kenworth plant.
The Kenworth T800 is one of the most versatile trucks on the market today. The T800 serves a variety of applications from linehaul tractors with the luxurious 86-inch Studio AeroCab® sleeper to severe service off-highway dump trucks and urban pickup and delivery vehicles. This operational versatility, coupled with its legendary reliability and high resale value, gives the T800 unmatched levels of customer satisfaction. The Westport engine is fueled with LNG - a safe, cost effective, low carbon, and low emissions fuel. The Westport LNG system is available with 400 and 450 horsepower ratings and up to 1,750 lb-ft torque for heavy duty port, freight, and vocational applications. LNG fuel tanks can be configured to suit customer range requirements. Trucks are eligible for federal tax credits in the United States and may be eligible for other state-specific emissions credits.
Westport's LNG system for heavy duty Class 8 trucks offers class-leading emissions, including lower greenhouse gas emissions than comparable diesel engines, and allows trucking fleets to move to lower-cost, domestically available natural gas and/or biogas. The Westport LNG system comprises LNG fuel tanks, proprietary Westport fuel injectors, cryogenic fuel pumps and associated electronic components to facilitate robust performance and reliable operation. The Westport LNG system is 2007 EPA and CARB certified to 0.8g/bhp-hr NOx and 0.01g/bhp-hr PM. Kenworth, Southern California dealer Inland Kenworth, Westport and Clean Energy Fuels received the prestigious Alternative Fuel Vehicle Institute's 2007 Industry Innovation Award for this truck product.
Source: Kenworth Truck Company

Référence: Westport Innovations