Two New Models for Kobelco
Kobelco Construction Machinery America introduces two new machines: the 17SR Acera zero tail swing, compact excavator and the SK170LC Acera Mark 8 full-size excavator.
The 17SR Acera delivers more digging performance and an adjustable track gauge that gives easy maneuverability in tight spaces without sacrificing stability when working. It also features a new "Smart Hydraulic System" fueled by three pumps that ensure maximum power for simultaneous lifting, swinging and travel operations as well as excellent controllability for fine grading.
The 15,2 hp Tier III diesel engine delivers 11% more breakout force and arm-crowding force. It also offers a 10% increase in swing torque and a 7,5% increase in draw bar pull force.
The machine has a maximum operating weight of 1650 kg and a maximum digging depth of 2,16 m. The bucket capacity is 0,025 to 0,045 m3. The 17SR features easy access to the engine compartment, hydraulics and all routine maintenance checks from the ground. This saves time on daily maintenance checks, increasing productivity.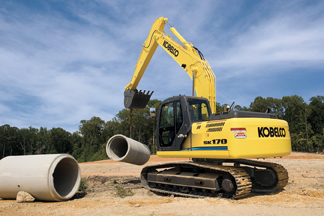 The 17SR features an in-cab lever, allowing the operator to move between expanded and contracted configurations without leaving the cab. The cab is comfortable and easy to enter because the design requires only a three-post canopy to meet both ROPS and FOPS standards while providing more room for the operator.
The SK170LC Acera Mark 8 is equipped with a Tier III certified IVECO engine, that cranks out 121 hp and 387 ft-lbs of torque, producing 8% more raw power than the previous model.
The Intelligent Total Control System (ITCS), puts the power directly into the hands of the operator by sensing his moves and providing hydraulic power precisely where it is needed.
The machine has a maximum operating weight of 17 145 kg and a maximum digging depth of 6,5 m. The hydraulic system uses high-capacity, small-particle filtration to increase maintenance interval times, and the radiator and hydraulic systems can be serviced independently, making maintenance on the machine not only less frequent, but easier than ever.
The machine's new cab features provide maximum visibility and control, ensuring that operators will have the tool they need to get the job done.
Both Kobelco 17SR Acera zero tail swing and SK170LC Acera Mark 8 are manufactured by Kobelco America in the USA, at the company's Kobelco America in Calhoun, Georgia.