Cleaning Up the Four Sisters
---
The Stanley Works , Hydraulic Tools Product Group
Special collaboration
A distinctive landmark west of Toronto on the Lake Ontario shoreline for over 40 years, the four imposing concrete stacks of the Lakeview Thermal Generating Station, each 146 m high, were demolished in a controlled drop and on the ground in less than 30 seconds on June 12, 2006. The concrete stacks were commonly known as "The Four Sisters" as each of the plant's eight boilers were paired off or "sistered" to a common exhaust stack. Two weeks later, in under a minute, the plant was leveled.
Completed at a cost of $274 million in 1968, the Lakeview Generating Station was the province's largest thermal-electric plant at 2400 MW.
Ontario government policy was to phase out all of Ontario Power Generation's six coal-fired generating stations so, the sisters came tumbling down. Then the real work began.
The great steel structure of the generating station housed a complex of conveyors, coal hoppers, boilers, heat exchangers and turbines. When first viewed after the implosion, the site of the structural steel facility seems overwhelming ­ like a wounded behemoth, laid down, inundated with heavy equipment picking away at the carcass.
The columns of the building structures have been strategically severed to effectively lay the building on an incline, intended to get the structure as close to the ground as practical, yet still allow crews to work on specific areas. Primary shearing took place to dismantle the buildings. The materials are then segregated into #1 heavy melt, #1 prime scrap, shredding, various non-ferrous scrap, concrete and brick. Once sorted, if necessary, secondary shearing will take place to further break down the material.
The complete demolition project, including remediation of the 52 ha lakefront site, is expected to take up to two years. It is a huge undertaking requiring a highly expert team of heavy equipment professionals to finish the job safely, on time and economically. The team on the site comes from Murray Demolition (a division of Quantum Murray LP), headquartered in Toronto, Ontario, and their tool of choice for the project is a fleet of excavator-mounted Stanley LaBounty shears.
Murray Demolition is one of Canada's big 3 demolition contractors who are capable of taking on jobs of this magnitude, specializing in industrial and commercial demolition projects.
Excavators, seven of them equipped with Stanley LaBounty shears, work in tandem with others equipped with grapples to load the revolving fleet of 30 to 35 trailers. Anything that cannot be sheared practically is hand torched. Between the excavators and torch crews, Murray is regularly hauling out between 700-900 t of the various sorted materials every day.
Two of the excavator-mounted Stanley LaBounty shears are designated to take on the specialized tasks of heavy shearing and high reach shearing. Murray's site project manager Jerry Dowall has a great respect for the equipment. A third excavator equipped with LaBounty 50R shear removes larger pieces from higher up.
Bill MacLean, president of Pineridge Equipment, has represented the LaBounty product line in Ontario since 1989. Over that time he has developed an excellent service-based organization partnering with his customers to meet their individual company and job specific needs. Bill MacLean and Stanley LaBounty engineers have worked closely with Murray Demolition's people like facility and equipment manager Peter McLean as part of the team to ensure the best performance of the equipment to tackle this major demolition project.
The MSD 7500R shear is one of the largest in the Stanley LaBounty product lineup, a massive unit weighing in at 13 380 kg with a 109 cm jaw opening and 114 cm jaw depth. According to Stanley LaBounty, this shear works best when matched with a 72 t excavator.
The MSD 7500R is a highly productive and powerful shear that can make short work of big jobs in the hands of an operator, a demo pro like Paul Lorenco. Starting as a scrapper driving a Bobcat in his teens, Mr. Lorenco is now a seasoned veteran at Murray and has seen it all. He operates the John Deere 850D with the MSD 7500R and explains, "This machine is used to rip, pull and tear the heavy primary structure down; then it shears and sizes beams up to the 10-12 t range for stockpiling and hauling out. The JD 850D and Stanley LaBounty MSD 7500R is a good combination. It gives me perfect control, and has excellent stability with no additional counterweight. The visibility is outstanding, right to the front end of the MSD 7500R."
He continues, "The MSD 7500R has the opening and the power to back up handling the really big stuff, pulling and tugging at the structure. That's why we brought it in. It really does the job, day in and day out. It's the largest Stanley LaBounty shear in our fleet and, with 800 hours on it, I am totally impressed with the shear power of the MSD 7500R. As operators, we take a lot of pride in our rides.
We all spend the last 12 hour of each day going over our equipment doing preventive maintenance with an extensive visual inspection, lubrication and tightening." Scheduled servicing of the excavators is completed by the local dealers.
The second specialized shear is paired to a CAT330 high-reach excavator. It is equipped with a Stanley LaBounty 1500R shear. Longtime Murray Demolition pro Dino Toste explains, "We got this machine and it has really worked well for us on this job. It has a reach of 21 m. I do the primary high pick and shear that the other equipment can't reach. There's a lot of work above the normal 12-14 m range reach of the other equipment and it keeps me busy. We all work as a team to get the job done."
The Murray crew thinks of the other five excavator-mounted Stanley LaBounty shears as their secondary processing lineup. These are the production workhorses of the fleet. Mounted on John Deere 450D excavators are Stanley LaBounty MSD 3000R shears that work mostly at ground level to cut hoppers, ducts, sheets, beams, flooring and heat exchanger tubing.
Murray equipment specialist, "The Doctor" Luigi Teti explains that these units are regulars in the Murray fleet. Luigi Teti, a heavy equipment mechanic since 1975, believes that demolition work is far tougher on a shear than scrap yard work. "In demolition work you are picking out of the air rather than off the ground," he says. "Demolition work involves picking, tearing, pulling and working on scrap beams that can unexpectedly break free from the structure and there you are, left with 20 t of material hanging off the end of the shear 12 m in the air. This is where the Stanley LaBounty lineup really sets itself apart, in its performance and durability on the really tough demolition jobs."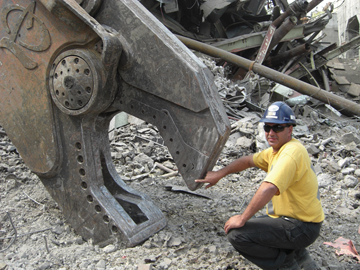 Murray's MSD 7500R was the first of its kind in Canada on a demolition job of this type. Mr. Teti had ideas for some minor improvements and called the factory. Stanley LaBounty sent two of their chief engineers to the Lakeview Project site to meet with the Murray Demolition experts. They collectively came up with product improvements that will benefit all demolition operators. "It's great to be able to work directly with Stanley LaBounty. They are a receptive and professional group," says Mr. Teti. "We have the Pineridge crew in one day a week to service all the shears in the fleet and sometimes more often depending upon the work being done. Some may need weld buildup or a blade turn or swap and others may not. However, we have found that one day a week seems to be a good balance to keep the 7 units here at the job site in top condition."
The Product Line manager for Stanley LaBounty, Uwe Kausch, paid a personal visit to the Four Sisters site. He commented on how his firm appreciates opportunities to work with customers onsite. "At the factory, we enjoy working directly with Murray to meet specific jobsite needs. We appreciate our very close ties with our customers, which we are able to develop in various ways with our 35 dealers, our 4 service reps and with the free factory-to-customer maintenance training we offer in North America, onsite or in-house. With equipment working on major demolition sites around the world rarely do we run across a significantly unique specific customer application we haven't already confronted. Stanley LaBounty attachments excel at taking on the really tough jobs, we welcome that challenge.
However, we're committed to working with the customer directly, shipping in material to the factory, setting up the process variables so that we can test and recommend an equipment solution beyond customer expectations. Stanley LaBounty builds the most powerful shears, mounted on the smallest possible carriers; shears with durability, high production and with minimal maintenance costs."
The Stanley LaBounty MSD Saber-Lube Series of 14 shears has a shear to fit any excavator and any size job. Stanley LaBounty recently introduced an industry-first automatic lubrication system on the MSD series of shears. With the MSD Saber-Lube Series, automatic lubrication has achieved field-proven results to increase blade life up to two times, cut weld buildup time in half and substantially reduce maintenance downtime. Key features of all Stanley LaBounty shears include 180° reversible saber tip, dual guide puck system, patented spool type speed valve for faster cycle times, heavy duty pivot components and patented 4 way indexible cutting, guide and nose blade system.
Ranging in weight from 500 to 19 000 kg and jaw openings from 25 to 121 cm the patent pending automatic lubing MSD Saber-Lube Series can handle your toughest demolition and scrap jobs.
Source: Stanley Works