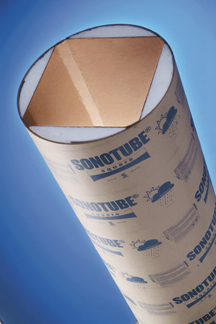 Sonotube® Square Concrete Forms
Now Manufactured in the Western United States
Sonoco has announced the expanded availability of Sonotube® Square concrete form production capabilities to Western North America, as a part of an existing alliance between Sonoco and Pacific Paper Tube.
"Manufacturing Sonotube Square forms through our existing channels on the West coast will reduce lead times, improve availability, and reduce delivered costs for our customers," said John Colyer, Sonoco's division vice president and general manager, Industrial Products division ­ North America. "We're pleased to better serve our customers by continuing to meet the needs of the market through the growing alliance between Sonoco and Pacific Paper Tube."
Sonotube Square concrete forms are the most cost-effective way to create a diverse range of square columns and footings. From the outside, Sonotube Square concrete forms look like traditional round forms, but inside they contain a square insert locked into place with polystyrene. This unique design ensures the finished column is true to form by enabling the square insert to stand strong against the weight and pressure of poured concrete. When the concrete cures, the finished column retains the straight lines, flat surfaces and chamfered corners that contractors demand.
Because Sonotube Square forms are as fast and simple to install as traditional Sonotube Round forms, column installation costs are significantly reduced since less labor and materials are required. The result is reduced setup, tear down, and column finishing time and labor. Sonotube Square concrete forms also feature the Ripcord column stripper, a quick, safe and convenient way to remove the forms after the concrete sets, without the use of power tools, and without damaging the surface of the column.
Sonotube Square concrete forms allow architects and builders to specify square columns, while providing contractors with the cost savings and easy-to-use properties found only in fiber-based concrete forms. Sonotube Square concrete forms are available in standard lengths up to 6 m, and in standard square column dimensions ranging from 30 x 30 cm to 61 x 61 cm. Custom sizes are also available for order.
Source: Sonoco