Simple to Replace, Easy to Install New Sealing Solution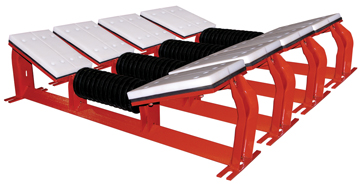 This year at ConExpo-Con/Agg, Superior Industries introduces a new product that eliminates spillage and reduces the often frustrating work of maintaining components in conveyor loading zones. The responsibility of the patent pending sealing system is simple: to eliminate belt sag and create a tight seal between the hopper skirting and conveyor belt. The design is what makes this product unique. Superior Industries manufactures its sealing system with optional, low-friction UHMW cartridges. Their size and shape make them easy to replace, rather than awkwardly swapping out entire seal bars.
These seal cartridges are available in either 15 cm or 30 cm widths and are built to fit existing idler frames. Complete units are also available, as are 1,2 m or 1,5 m UHMW seal bars. Per need, impact or steal rolls are offered for the center of the system.
Source: Superior Industries