Terex Pegson & Powerscreen at CONEXPO-CON/AGG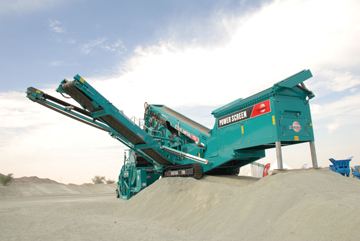 Terex Pegson & Powerscreen are exhibiting the Terex® Pegson 1000SR & XA750 and the Powerscreen® Chieftain 1700 3Deck Rinser & H5163 horizontal screen on the Terex stand at CONEXPO-CON/AGG.
The new Powerscreen® Chieftain 1700 Rinser is a mid-sized, tracked mobile unit, available with two or three decks to complement the Chieftain 1400 & new Chieftain 2100X products and adding to the already hugely popular Powerscreen® Chieftain range.
The Chieftain 1700 Rinser is suitable for sand & gravel, coal & coke, crushed materials, slag and recycled materials and produces four clean end products ready for sale and use. This is a high capacity, fully mobile washing screen that includes a feed hopper complete with reject grid, feed conveyor, washing screen and fully enclosed power unit. On-board side conveyors allow midsize and oversize products to be stockpiled, without the need for traditional stand-alone conveyors. Crawler tracks allow ease of relocation and movement.
The Terex® Pegson 1000SR mobile plant combines the high performance of the popular tracked 1000 Maxtrak with a double deck sizing screen and a re-circulating system all on one single tracked chassis. This enables customers to take advantage of the well-known and site-proven benefits of the Automax® cone crusher, which is now incorporated into a closed circuit screening plant, thereby eliminating the need for separate screening. This versatile, mobile combination plant is ideally suited for secondary and tertiary applications in quarrying, where high quality, low flake, single size aggregate and "all in" sub-base materials are required.
The 1000SR accepts an "all-in" clean feed and produces high throughput, excellent reduction and product shape while also allowing operators to recirculate oversize from the screen, or to stockpile it, if required. In addition the plant is also able to produce two further screened product sizes when the optional additional stockpiling conveyor is included. The fines conveyor incorporates a simple and effective system providing access for mesh changes, screen and conveyor maintenance.
Customers wanted an even larger crusher, so the engineers at Terex Pegson have delivered their largest crusher to date and features the well-proven Terex® Jaques WJ3254 Single toggle jaw crusher with an unrestricted feed opening of 1400 X 800 and a hydraulic Closed Side Setting adjustment ranging from 75 mm in recycling applications to 200 mm in natural rock applications. The draw back rod retention system is operated hydraulically minimizing down time for maintenance.
The XA750 also incorporates a new modular chassis design that allows for a variety of feeder options to be utilized. The XA750 has a capacity of up to 750 t/h depending on the application.
The Terex® Powerscreen H5163 is a new addition to the horizontal screen H range and, like the H6203; the H5163 has been fitted with a Terex® Cedarapids 4,8 m x 1,5 m ­ three deck screen. The horizontal triple deck screen has a triple shaft adjustable mechanism creating an elliptical screen motion which allows the screen to be adjusted to the material being separated.
The H5163 is ideal for natural & crushed aggregate, coal, iron ore, overburden, recycled concrete and asphalt applications and the vigorous screen motion produces four very clean end products.
The H5163 is powered with a 130 hp Caterpillar C4.4 engine with integral folding side conveyors. The H5163 is also available in two types of models, the standard which has the oversize material going in a forward motion and discharging on the tail conveyor and a re-circulating model which allows the oversize material to be discharged out on the side conveyor.
Source: Terex Corporation