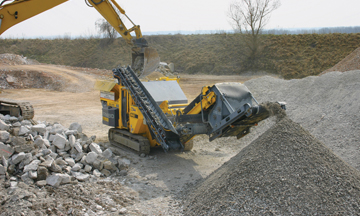 Rubblemaster RM-80 compact crusher
for Démolition L. Piché & Fils Inc
Voghel Inc. is proud to announce the purchase by Luc Piché of a Rubblemaster RM-80 compact crusher. With his new mobile crusher, Mr. Piché will be able to recycle asphalt, concrete, gravel, and rocks directly on his sites, as well as on his customers'. We would like to thank Mr. Piché for his trust.
Rubblemaster is a leading manufacturer of mobile crushers dedicated especially for on-site crushing and recycling. Voghel Inc has been involved for more than 12 years in the distribution of innovative equipment in the recycling and waste management business. It is the exclusive distributor for the Doppstadt products, as well as the Rubblemaster compact crushers and the Al-jon landfill compactors for the provinces of Ontario, Quebec and the Maritimes.
Source: J.Y. Voghel Inc.