Voghel Announces the Sale of Two Doppstadt 3060K Wood Shredders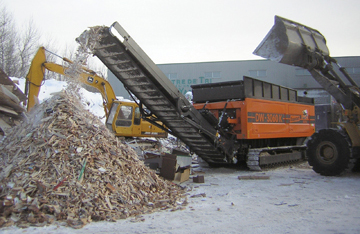 Multi-Recyclage S.D. from Laval, Quebec, purchased a DW3060K last Autumn. Specialized in the recycling of C&D waste and mixed waste, Multi-Recyclage will combine its shredder with its Doppstadt AK430K high speed grinder in order to maximize its production. Voghel would like to thank Guy and Sylvain Demers and all the team for their confidence.
Sani-Eco Inc, from Granby, Quebec, also purchased a Doppstadt DW3060K last January from Voghel Inc. The slow speed shredder will be used in different types of material by Sani-Eco such as C&D and mixed waste. Voghel thanks Jean-Denis, Sylvain, and Stephane Gagné for their trust.
Voghel Inc. would also like to invite you to the Doppstadt booth at the Conexpo-Con/agg convention March 11-15 in Las Vegas. Located at booth S-8251, the full range of Doppstadt products will be on display, including a slow speed shredder, a high speed grinder, and a trommel screen.
Source: J.Y. Voghel Inc.