Canadian "Black Spot" Gets Upgrade with Dynapac Rollers
New Dynapac compaction equipment delivered for major upgrade projects on one of Canada's most notorious "black spot" highways meet experimental compaction standards specified by highway engineers to withstand Canada's harsh winter conditions.
New Dynapac compaction rollers have recently been delivered to contractors Inter-Cité Construction, of Saguenay, and Pavex, of Saint-Félicien, for work on upgrading Route 175 – one of Canada's most dangerous highways, in the Province of Quebec – it includes a Dynapac CP224 pneumatic rubber tired roller and a CC524HF double drum vibratory roller.
Route 175
Route 175 is a key 174 km long highway through Canada's Parc des Laurentides National Park – an area of outstanding beauty – and linking Quebec City and the city of Saguenay (Chicoutimi). The highway is widely used by loggers, transporters, regional and tourist traffic.
It is also considered to be one of the country's most dangerous highways being subject to frequent poor weather conditions. Accidents caused by moose on the highway are also not uncommon.
Originally a single lane in each direction, the highway had progressively been partially built to autoroute standards but with many sections still single lane or with an overtaking third lane. It nevertheless remains an accident black spot.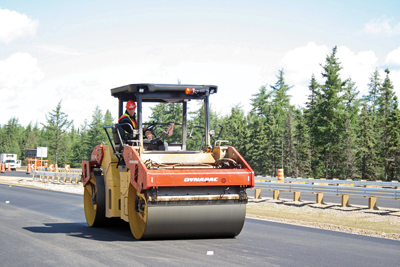 Following lengthy negotiations between the Quebec and Federal governments funding of almost $637 million to upgrade the highway was confirmed in 2002 by Prime Minister Jean Chrétien and Premier Bernard Landry.
By 2005 work was started on upgrading to a four lane, dual carriageway along the full length of the highway with a completion date of 2012.
With the first four-lane section completed in 2007, some 67 km had been completed by 2008 with a further 16 km in 2009.
Experimental specs
Highway engineers, in seeking ways to extend the asphalt lifespan throughout Canada's harsh winters, where snowfall can be up to 3 m deep and a frost penetration of more than a metre can be experienced, are experimenting with different asphalt thicknesses, layers and compaction densities.
Additional asphalt damage is also caused by the country's heavy axle load weight limits for trucking.
The highway is being generally built with at least a metre high embankment to reduce frost penetration. Highway engineers have also specified low mix asphalt and low compaction density to absorb any soil/asphalt movement together with a bottom, third anti-cracking asphalt layer – particularly along Inter-Cité's segment at km 154.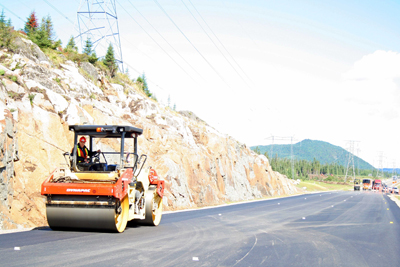 Together, it is anticipated that these will offer flexibility in the pavement to prevent possible cracking during the harsh winter months.
Compaction duties
Contracts are generally broken down into 5 -10 km segments with the two contractors – Pavex and Inter-Cité Construction working at km 143 and km 154 respectively – recently taking delivery of new purpose-ordered Dynapac compaction equipment for the brief summer month's construction "window".
Since 2005, Inter-Cité Construction has completed almost 70 km of highway along Route 175 close to Chicoutimi with a large fleet of Dynapac rollers.
For its latest contract, Inter-Cité is laying a specified 55 - 66 mm thick ESG5 asphalt mix, featuring a 0.5 mm aggregate mixed with sand and bitumen, as an anti-cracking (fissure) layer.
This is topped by an ESG14 mix to depths of between 68 - 80 mm as specified with a 50 mm top ESG10 wearing coarse. All the asphalt layers are compacted to meet a minimum of 93% compaction density and a maximum of 98% depending of the section of road.
Joining a Dynapac CP221 roller, Inter-Cité took delivery in July from local dealer J.A. Larue Inc. the first CP224 with an air conditioned cab in the country.
The 21 t-class roller features seven rubber-tired wheels and offers, according to operator Olivier Bouchard, "a great ride".
"The operator's seat is so much more comfortable than previous models and the air conditioned cab is a real bonus in the summer months," he said. "I can also adjust the water sprinklers which will be particularly important during, for example, the fall ensuring less water is used to maintain a higher temperature on the tires."
Km 143
Pavex, for its segment at km 143, took delivery from J.A. Larue Inc. of a new Dynapac CC524 HF in May to complete a Dynapac compaction train comprising a CC522 HF compaction roller and a rubber-tired CP221.
Utilizing the CC522 HF with four passes behind the paver, the CP221 roller follows with one or two passes to seal the asphalt.
The new CC524 HF double drum compaction roller completes the cycle with a single vibratory pass over the 500 m pass length for the first asphalt layer. For the top layer the roller provides a static mode pass.
The 12.7 t-class CC524 HF tandem roller features a drum width of 1950 mm and offers a high/low frequency amplitude of 51/67 Hz. It is powered by a Cummins QSB 4.5 Tier 3 water-cooled, turbo-diesel engine with an after cooler and is rated at 125 hp at 2200 rpm.
Source: Dynapac