Roadtec Opens the Way to Smoother Roads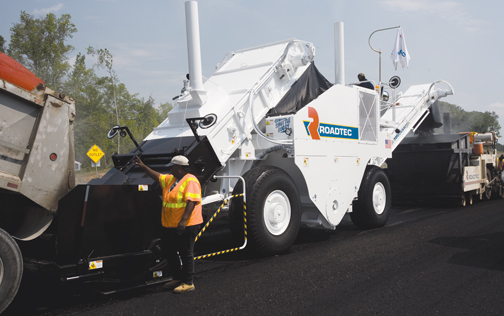 Roadtec, located in Chattanooga, Tennessee, manufactures and markets a complete line of cold planing and recycling equipment, material transfer vehicles, screeds and asphalt paving machines. Their equipment is distributed in Quebec by Montreal Tracteur Inc.
Roadtec's cold planers are available in sizes from utility to full-lane and provide the optimum balance between horsepower, production and maneuverability. Track models can be equipped with a bi-directional feature to achieve down cutting in the reverse direction of travel.
Roadtec pavers are the most reliable and maintenance-free pavers in the industry. They are simply-designed and well-balanced for maximum tractive effort and can be equipped with a variety of screeds and controls, with electric screed heat standard equipment on all models eliminating the "hot" spots found with diesel or propane burners. The Comfort Drive™ operator system is also standard equipment on their pavers. A hydraulically-raised engine hood allows "walk-in" access for maintenance needs and critical componentry.
The Shuttle Buggy® offers the latest in pavement placement technology available worldwide. The Shuttle Buggy is a mobile, self-propelled surge bin with an antisegregation auger design that remixes material to produce a consistent size and temperature. In addition, the surge capacity of the Shuttle Buggy allows for continuous paving by separating truck unloading from the paving process; trucks never come in direct contact with the paver and are able to unload material immediately and return to the asphalt plant.
The Shuttle Buggy® not only allows the construction of significantly smoother roads but also improves the efficiency of paving operations. Benefits to the contractor include significant savings in asphalt trucking costs, making the patented Shuttle Buggy one of Roadtec's most successful products.
All Roadtec products are built to the highest standards and offer simplicity of operation and maintenance, along with outstanding productivity. Roadtec and Montreal Tracteur are committed to provide unequaled service and parts support to their customers, with reasonable parts pricing and no minimum order requirements.
Roadtec products will be on display at CONEXPO-CON/AGG in Las Vegas (Booth C-5133) and at the Journée Expo-Bitume in Saint-Hyacinthe (Booth 99). Representatives from Montreal Tracteur Inc will be on hand to answer any questions you may have.
Source: Montreal Tracteur Inc.