New Brokk 100 Demolition Machine Launched
at World of Concrete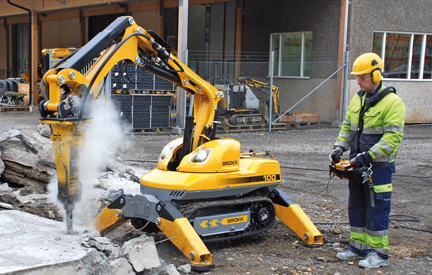 Brokk AB officially introduced the Brokk 100 Demolition Machine at the World of Concrete in Las Vegas. Featuring a more compact design, yet 35% greater breaking power, the all-new Brokk 100 replaces the best-selling Brokk 90 machine. The Brokk 100 enhances the company's already-extensive line of remote controlled demolition machines, designed for use in a variety of industries including cement and metal processing, construction and demolition, mining and tunneling, and nuclear, as well as other specialty applications.
The compact design of the Brokk 100 permits operation in the tightest, most confined spaces. The low-profile configuration, less than 122 cm high, allows access into smaller openings, while the lower center of gravity provides greater stability. Improved driving capabilities further enable the machine to offer smooth transportation and operation on the most challenging jobsites.
Though the overall design is smaller, power and reach were not sacrificed. A new load-sensing hydraulic system with improved hydraulic capacity helps generate 35% greater breaking power when paired with the included SB152 breaker. Maximum horizontal reach is 3.7 m, while vertical reach is 4.3 m.
The Brokk 100 is powered by a 20-hp electric motor, allowing safe, emissions-free operation. Two power levels are offered: 16- and 32 A. When electric power supply is limited, the machine offers the option to "gear down" and work using only 16 A.
Excluding attachments, the Brokk 100 weights in at 990 kg. Recommended maximum weight of attachments such as breakers, crushers, drills and shears is 150 kg. The unit features a height of 116 cm and width of 79 cm.
In addition to the new 100, Brokk offers eight models, ranging in size from the Brokk 50, at just 500 kg, up to the Brokk 800, at 10 t. The company also engineers and builds custom machines with special equipment such as cameras, extended arms, side-angling devices and cable drums.
Source: Brokk AB