Compactsaphalt® in Canada
Dynapac Canada has debuted the Compactsaphalt® road paving technology last summer in the region of Midland, Ontario on Highway 12. The technology combines the installation of both the binder and wearing courses simultaneously, in one single paving operation.
The core of this process is a Dynapac paver DF 145 CS with an added module Dynapac CM 2500. The complete Compactasphalt unit consists of 2 material hoppers and 2 screeds used at the same time. The first screed applies the highly-compacted binder course. The second screed lays the wearing course – Hot on Hot – directly behind the first. The initial compaction is carried out by a static roller with a low linear load.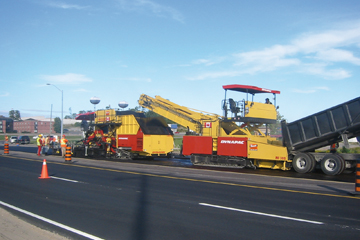 The funnel-shaped 28 t (31 tons) front hopper contains the binder material which is designed for uniform emptying without segregation. The 15 t (17 tons) upper hopper holds the wearing course material.
The unique CM 2500 module is powered by a Deutz TCD2013 engine. Located in the front of the paver, it allows the drive system to act as a counterweight balance.
To carry the module, the Dynapac DF 145 CS paver is built with various modifications, reinforcements and special control units. The DF 145 CS can be used with the CM 2500 Compactsaphalt module, and without the module as a conventional paver.
The Compactasphalt working with varies from 2.5 m to 7.5 m. A patented excenter adjustment leveris designed to enable the screed to be set quickly to the top, binder or base course.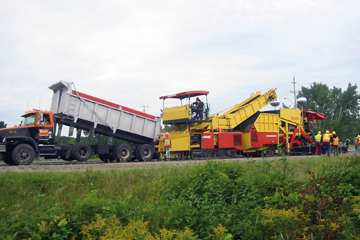 Use of the Compactasphalt® road paving technology in Germany has shown reduced construction times by up to 50% in the paving schedule and the prolonged durability of the wearing course up to 25 years. These results have been said to reduce governmental budgets and also reduce CO2 emission since the need of milling and repaving is reduced during the life cycle of the road, compared with conventional paving method.
With the project realized in Midland Ontario, Dynapac Canada is the leader in paving innovation in North America.
Dynapac products are distributed in the provinces of Quebec and Ontario by J.A. Larue Inc. The complete Compactasphalt® unit will be on display at EXPO Grands Travaux, in Montreal, April 13 - 14, 2012.
Source: Dynapac Canada