Nissan NV200 Compact Cargo Van Debuts in Chicago
The all-new Nissan NV200 Compact Cargo Van, which made its North American debut at the 2012 Chicago Auto Show, is set to join the growing lineup of Nissan Commercial Vehicles in early 2013 at 38 Nissan Commercial Vehicle dealerships nationwide. The NV200 follows the full-size Nissan NV Cargo, introduced in spring 2011, and the recently announced full-size Nissan NV Passenger that goes on sale this spring. The Nissan NV200 provides a new entry point for current cargo van and small pickup buyers looking for a compact, efficient alternative to their larger, less fuel-efficient vehicles.
"There is an increasing need for a 'right-sized' van that optimizes cargo space while offering the best possible fuel economy and an affordable price – the exact sweet spots of the innovative new Nissan NV200," said Michael Colleran, Regional Vice President of Field Sales and Sales Operations, Nissan Canada Inc. "Businesses today, both large and small, are also looking for vehicles that represent their brands in the best light – smart, innovative, and professional. NV200 does that and much more."
While new to North America, the Nissan NV200 compact van is already in use in more than 40 countries around the world, receiving acclaim from both users and media alike for its optimal functionality and smart design. It won the 2010 International Van of the Year award in Europe, the 2010 Commercial Delivery Van (CDV) of the Year in China, and the 2011 Universal Design Award from Universal Design GMbH, a German organization dedicated to promoting the convergence of design and the emerging importance of customer needs. NV200 has also established a presence as the strong segment leader in Japan with a wide-ranging lineup that includes a taxi version.
The NV200 offers a large cargo capacity of 3.48 m3 with a small exterior footprint. Unique for North America, the NV200 body has been extended 200 mm versus the models sold in other global markets. This longer body length offers additional cargo carrying capability for North American customers.
Measuring just 473 cm in overall length, on a 293 cm wheelbase, the NV200 is highly maneuverable in traffic and easy to park. Yet it allows for a 680 kg payload. The cargo area dimension between the efficiently designed wheelhouses allows for loading standard U.S. pallets. Added utility is provided by the standard integrated mounting points, which allow installation of racks and shelves without drilling into the sidewalls, and six available floor mounted cargo hooks in the cargo area.
The new Nissan NV200 will be manufactured in Cuernavaca, Mexico and available through a select network of certified Nissan Commercial Vehicle dealers nationwide.
FedEx Tests an Electric NV200-Based Vehicle on London Streets
A prototype zero-emission all-electric delivery vehicle started extensive real-world testing on the streets of London. FedEx Express and Nissan are collaborating over a two month period to evaluate how the NV200 electric vehicle (EV) prototype copes with the rigours of daily duties in the UK capital.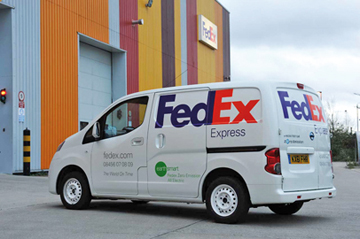 The Nissan NV200 EV prototype uses the same EV powertrain and battery originally developed for the multi-award winning Nissan LEAF.
Beth Galetti, vice president of Planning and Engineering, FedEx Express EMEA (Europe, Middle East, Indian Subcontinent & Africa) said, "FedEx is proud to collaborate with Nissan on this initiative. Our cross-sector approach to reduce dependence on petroleum, reduce carbon impact and eliminate tailpipe emissions remains unwavering. At FedEx, we seek to connect the world in responsible and resourceful ways and we will continue to work closely with Nissan to change what is possible."
"Zero-emission vehicles like Nissan LEAF are already playing an increasingly significant environmental role in our towns and cities. The Nissan NV200 EV prototype delivery vehicle will not only improve the quality of urban life, but thanks to best in class running costs has great potential to ease the economic burdens placed on companies," said Nissan corporate vice president Hideto Murakami, responsible for the Global LCV Business Unit, "FedEx Express feedback from the evaluation process will help us tailor a future battery-powered light commercial Nissan vehicle that meets customer needs."
"Collaboration is part of our global vehicle strategy," explained Dennis Beal, vice president of Global Vehicles for FedEx Express. "Through collaboration we can exponentially improve and expedite what is possible. We value the opportunity Nissan has given us to provide experienced feedback and contribute to development of the best Nissan NV200 possible."
FedEx Express currently operates 43 all-electric vehicles in London, Paris, New York, Los Angeles, Chicago and Memphis- all of which are ideal dense urban centres. With zero emissions, no tailpipe, and energy-recycling regenerative braking, the Nissan NV200 EV prototype is particularly well-suited for congested city streets where poor air quality is causing increased concern and the start and stop of city traffic reduces the wasteful loss of energy and thus increases the efficiency of the vehicle's driveline. Battery charging options include a complete recharge overnight or up to 80 per cent capacity in just 30 minutes using a Quick Charger.
Additional trials are anticipated for 2012 mirroring similar trials held in 2011, where the NV200 EV prototype was used by the Japan Post Service on delivery and collection duties in Japan.
Source: Nissan Canada
FedEx Corporation