Volvo CE Breaks the Ice (and Snow) in the Prairies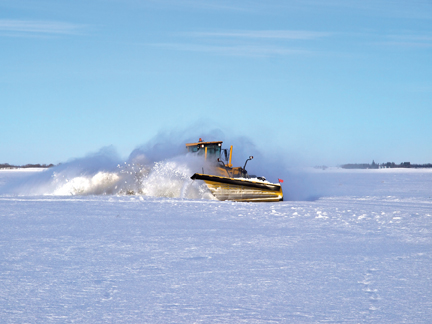 Saskatchewan is no stranger to wintery conditions – but imagine this, it is the middle of winter, it has been snowing for days, the temperature has dropped out of sight and you need to get to town… enter Volvo Construction Equipment (Volvo CE).
Winter temperatures in Saskatchewan range from an average "high" of -8°C to an artic low of -20°C. Add bitter winds to this and the result is enough to make your teeth chatter, and normal life comes to a freezing halt.
The wind and snow tends to pile up in rock-hard drifts – often in the most inconvenient of places, calling for Volvo CE's proven line of snow-fighting motor graders to come to the rescue.
With its Scandinavian heritage, Volvo CE has a hard-won reputation for providing rugged construction equipment that does not stop when the mercury plunges, so it is no surprise that it offers some of the most popular snow removal machines in the industry. In the northeast of Saskatchewan, Volvo CE is a popular provider of motor graders – one of the tools most often used to move snow.
"The lighting and visibility on these graders is excellent. As soon as it stops storming, regardless of the time of day or night, we are out working. We couldn't do that with the other grader brands the municipality has owned in the past," says Don Dancey, an operator in the Rural Municipality of Star City, northeast of Saskatchewan.
Mr. Dancey is anxious for the arrival of the municipality's new Volvo G970B and Volvo G976B all-wheel drive graders.
"The older 970's have served us well. On each machine we put anaverage of 2,000 hours on yearly between road maintenance in the summer and snow plowing in the winter. We have well over 500 km of road to keep open in the winter and we can usually open everything up in a day and a half," he adds.
Volvo provides the option of two different cab configurations for their graders and Mr. Dancey, being over six feet tall, loves the taller cab.
In another area of Saskatchewan, the Rural Municipality of Efros has a population of approximately 480 people and over 600 km of roads to maintain and keep open in the most extreme weather. Thankfully the town owns a pair of Volvo G970 motor graders to set upon the snow.
"It's a great machine. It's the best that I have ever operated, and it has lots of power. When you need to move something this grader will do it easily," says grader operator Marcus Elphinstone, who really appreciates the power and stability of the Volvo G970.
Mr. Elphinstone's partner, Terry Torgerson, is a 33 year veteran motor grader operator. "I also really like this grader for plowing snow. With the 11-speed transmission I can easily maintain a plowing speed of 40 km/h and it has the power and weight necessary when the going gets tough," he says.
A few kilometers down the road, Reeve Council of the Rural Municipality of Star City have just placed an order with Eric Katarey and Redhead Equipment for two new Volvo CE motor graders to replace their ageing Volvo G970 fleet.
In northeast Saskatchewan alone there are over 46 rural municipalities and more than 100 motor graders owned, the majority of them sporting Volvo branding – and that number is growing. There are also thousands of kilometers of roads, over 100 happy operators, and 30 very pleased municipal councils, residents and taxpayers.
Source: Volvo Construction Equipment