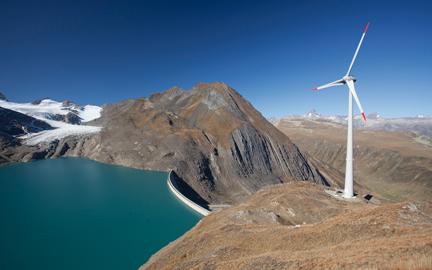 Construction of Europe's Highest Wind Power Plant in Switzerland
Near the small town of Ulrichen am Griessee in the Swiss canton of Valais, SwissWinds Development has erected the highest-positioned wind power plant in Europe. A major achievement at 2465 m above sea level which was made possible through the use of heavy-load equipment from Scheuerle Fahrzeugfabrik.
The topping-out ceremony for Europe's highest-situated wind power station (Enercon E-70) - initiated, planned and realized by the SwissWinds Development GmbH - was held at the end of September. After the test phase, which will last for several months, the plant has been designed to generate three gigawatt hours per year, enough to supply around 800 households. The biggest challenge of this spectacular project was the transportation of the individual plant components to the assembly site located at 2,500 m above sea level.
This included negotiating Central Switzerland´s highest mountain pass, the Nufenen Pass. Transports were carried out by Voser Transport AG from Neuenhof. The 35 m long rotor blades began their journey in All'Aqua (1,600 m above sea level) and then had to travel along the entire narrow and winding Nufenen Pass. Not only was the height difference a particular feature of the transportation but also successfully dealing with the total of 9 hairpin bends with turning radii of only 15 m on this route.
Martin Stromeier, site manager at SwissWinds Development, is absolutely certain: "No other transport vehicle would have been able to better cope with this extreme transport assignment to our assembly area." This is a reference to the special Scheuerle InterCombi combination complete with blade adapter which has been designed to meet the requirements of transporting wind power plant components to assembly areas that are difficult to access.
This involves an extremely compact 4-axle InterCombi semi-trailer combination with slab deck on which a blade adapter with lifting and lowering device is mounted. In tight bends, the lifting and lowering function moves one side of the blade upwards by means of a radio transmitter so that the tip of the blade points upward at an angle of up to 23° and, in so doing, "floats" over obstacles. Only with this specially developed vehicle technology from Scheuerle was it was possible to move a 35 m rotor blade around a bend with a diameter of only 30 m.
This lifting and lowering device can also be mounted on a self-propelled 6-axle InterCombi SP. With this transport system, concrete tower half-shell sections and tower segments of the Enercon hybrid tower construction were transported 800 m from the front area of the intermediate storage facility to the final assembly point. A gravel road with a 15% slope had to be negotiated here.
"It took us two hours for the first transport. However, when we finally moved the nacelle up to the assembly area, we only needed 15 minutes. Once you have warmed up, things are done pretty quickly!" said Marcel Heimgartner, Voser Transport AG.
"Here one could actually say that the heavier the load is, so much the better. We have found that traction improved more and more as the weight of the transport increased. No wonder with a maximum payload of 200 t. As a result, we could deal with the 17% gradient with no problems whatsoever," added Markus Binder, Voser Transport AG.
Initiators Martin Senn of SwissWinds and Andrew Sulser of Voser came up with the idea for this very unusual project in 2009. The ensuing vehicle concept from Scheuerle Fahrzeugfabrik convinced all project participants and the order was placed shortly after. In June 2011, construction of the foundations at this unique location by the Griessee reservoir could begin. According SwissWinds, the plant will go online in early 2012.
Source: Scheuerle Fahrzeugfabrik