Wir Sehen Sie Uns in München! (We'll be seeing you in Munich!)
Redundant Force Transducers for Safety Applications in Cranes and Lifting Equipment

tecsis Force transducers, used in cranes and other lifting applications, are now available in a redundant version with an additional safety electronic module. The transducers consist of two separate measurement links. The integrated safety module monitors the outputs of both sensors permanently. In case of error, the electronic sets the analogue output to a preset level of for example 2 mA instead of the normal output of 4 – 20 mA. An external control system can detect the error immediately and respond accordingly. The optional safety electronic is specially designed for the high safety demands in cranes. In addition, the force transducers can be used in many other safety related applications, as the relevant key parameters fulfil the requirements according to EN ISO 13849-1. tecsis provides all safety related parameters of the sensors, which are needed for the calculation of the performance level of the application.
The redundant force transducers are used in cranes and other lifting applications. The transducers are available for example as load pins or tension force transducers allowing an easy integration into the application. The user can select from a wide range of different nominal forces. The transducers can withstand harsh environments and have a high electro-magnetic resistance, which is very important especially in cranes.
Innovative One-Stop Solutions for the Minerals & Mining and Structural & Civil Engineering Sectors

At bauma 2013, five ThyssenKrupp companies – ThyssenKrupp Steel Europe, ThyssenKrupp Bautechnik, ThyssenKrupp Bauservice, ThyssenKrupp Fördertechnik and Berco – will be presenting new materials, handling equipment, machinery and shoring systems.
Whether it is slewing ring bearings, geological surveys or financing strategies – ThyssenKrupp is a one-stop supplier. The German company offers innovative solutions from advice, planning, project management, engineering, construction and delivery to installation and commissioning. The diversified industrial group can also advise customers on all material processing-related issues. Its services range from first-stage processing and logistics to warehouse and inventory management to full supply chain management.
With its range of wear-resistant and high-strength special structural steels marketed under the brand names XAR®, XABO®, N-A-XTRA® and PERFORM®, ThyssenKrupp Steel Europe's Heavy Plate unit offers a broad and varied portfolio on four continents. For example, robust XAR® steels significantly extend the service lives of wear parts in excavator shovels, crushers, conveyors and screens. High-strength N-A-XTRA® and XABO® grades make it possible to reduce the weight of parts in highly stressed structures such as mobile cranes and mining shields without sacrificing performance. PERFORM® was developed specifically for cold forming and is therefore a material of choice for the manufacture of lightweight components in commercial vehicles and mobile cranes.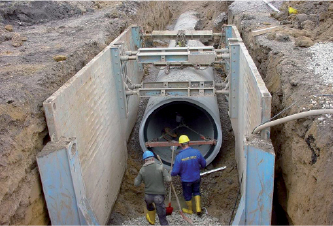 As a leading system supplier for port and special civil engineering and flood protection, ThyssenKrupp Bautechnik is a recognized partner in infrastructure projects around the world. Its operations center on the sale and hire of steel sheet piling, machinery, anchor equipment and flood protection systems. At this year's exhibition the company will be displaying a broad range of products, including performance-enhancing innovations in vibration and drilling technology, anchor solutions for geotechnical projects, new flood protection systems, and the modern steel sheet piling range TKL.
In addition to its established and proven range for structural and civil engineering applications, ThyssenKrupp Bauservice will be showing new products from its RöRo shoring systems unit. They will include the S150 heavy-duty prop system, which features an array of intelligent details and is mainly used in concrete construction. The Emunds/Staudinger + Krings unit will be presenting innovative and cost-efficient shoring solutions as well as useful accessories for civil engineering.
Wacker Neuson World of Experiences at Bauma 2013

Wacker Neuson will create a world of experiences for the visitors. Within the nearly 6,000 m2 exhibition area, there will be many promotional areas where visitors can test and experience products. Demo shows taking place regularly with impressive product presentations in combination with daring athletes will provide for additional excitement in the booth.
The group's entire product range, consisting of the business units of concrete technology, compaction technology and construction site technology with products from demolition technology, power generation, lighting technology and pumps as well as compact machines, such as excavators, wheel loaders, dumpers and compact loaders, will be presented.
The products from the group brand Kramer Allrad will be exhibited at an area integrated within the Wacker Neuson booth. The Kramer Allrad product range includes wheel loaders, tele wheel loaders and telehandlers.
WOLFF – A Century of Cranesational Technology

In 1913 Julius Wolff & Co. presented the world's first fast-assembly mobile tower crane at the Leipzig Trade Fair – a sensation that revolutionized the construction machinery market. A century later WOLFFKRAN still leads the technological development on the crane market. A unique success story that WOLFFKRAN will celebrate at this year's bauma.
At the time praised by the press as a "phenomenal construction", the fast-assembly tower crane is nowadays an indispensable element of every construction project. Whereas at the beginning of the 20th century workers still needed almost two weeks for the assembly, a tower crane can today be erected within a day.
Brand new product innovations alongside proven classics are evidence that WOLFFKRAN will be living up to its corporate motto "All you need is… WOLFF" also this year. A new trolley jib tower crane and a newly designed cabin will be making their debuts. The recently introduced hydraulic luffer will be shown side-by-side with tried and tested best sellers. The bauma presentation of the premium manufacturer will be crowned by a milestone birthday and promises moments of historic glory.
Top Telecrawler Lineup Headed to Bauma 2013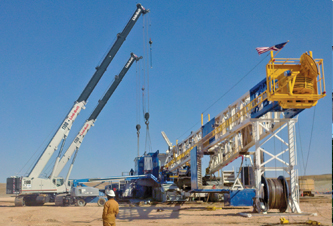 At bauma 2013, Link-Belt will showcase two of its telescopic crawler cranes, designed and built in North America, the 70 t (75-ton) TCC-750 and 100 t (110-ton) TCC-1100. Both Link-Belt machines have had substantial market success. The TCC-750, with success shipped worldwide, and the TCC-1100, the third in a growing lineup of telescopic crawlers, has cemented Link-Belt's presence in the telescopic crawler market.
The design for these two cranes focuses on being robust, simple, and reliable for the general contractor or bare rental fleet owner.
The RTC-8080 Series II is also heading to Germany. It rounds out Link-Belt's line of mid-range rough terrain cranes and offers all of the cutting edge features that customers and operators have come to expect from the Series II line.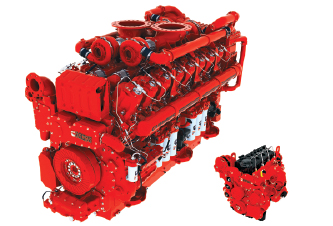 Cummins Highlights 49 hp to 4,200 hp Capability
Cummins Inc. will feature one of the most impressive engine lineups ever seen at the bauma show, with a "smallest-to-largest" engine display featuring the QSF2.8 at 49 hp and the QSK95 at up to 4200 hp. The 2.8 l and 95 l engines highlight the recent extension of Cummins power at both the low and high ends of the range, now the broadest and most capable in the industry capable of meeting Tier 4 Final emissions.
Small in size and light in weight due to the innovative use of composite materials, the QSF2.8 is ideally suited for highly compact equipment such as skid steer loaders and mini-excavators.
The QSK95 is the most powerful 16-cylinder engine ever designed for ultra-class mine haul trucks with up to a 360 t (400 ton) payload.
Rexroth Sets New Standards for Excavators
Bosch Rexroth has put together a new high-performance component and software package that can reduce the fuel consumption of excavators by up to 20% without compromising performance.
At bauma 2013, the company will present the new "Virtual Bleed Off" (VBO) technology, which sets new standards in this market segment with regard to fuel efficiency and handling.
New Dual Universal Signal Converter with CAN bus
Visit Axiomatic's booth at bauma 2013 to see I/O Controls, Valve Drivers, Motor Controls, DC-DC Power Converters, Signal Converters, Amplifiers, Simulink, CAN bus, SAE
J1939, and CANopen Protocol Converters.
This year, a new dual universal signal converter with CAN bus joins the Axiomatic line of rugged automation products.
The IP67-rated AX130500 features two input signals (analog voltage, current, resistive, frequency/RPM, PWM or digital) and two output signals up to 20 mA.
Output Signals are programmable as 0-5 Vdc, 0-10 Vdc, 0-20 mA, 4-20 mA, frequency, RPM, PWM or digital ON/OFF signals.
A Model with Simulink® is available on request.
Applications can include: power gen set engine control systems, oil and gas equipment automation, and off-highway machine automation.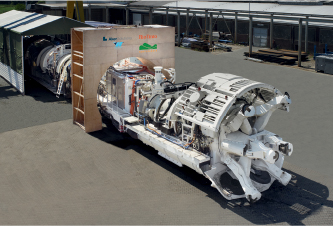 Mobile Tunnel Miner Has Chances for Award
The latest development from Aker Wirth, the Mobile Tunnel Miner (MTM) for underground tunneling and mining, has been nominated for this year's bauma Innovation Award.
The innovative Mobile Tunnel Miner combines the flexibility of a roadheader with the robustness of a tunnel boring machine. The knowledge gained from a previous version developed and tested already by Aker Wirth is also exploited.
ALLU® Screener Crusher Bucket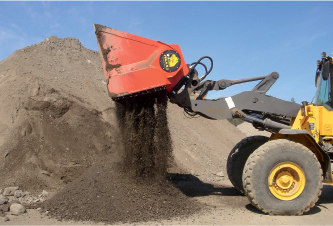 The ALLU® D-Series Screener Crusher Bucket attachments screen, crush, pulverize, aerate, blend, mix, separate, feed and load materials all in one stage – increasing the profitability and efficiency of various municipal activities, including composting, landfill operations and road construction.
ALLU D-Series Screener Crusher Bucket attachments are available in over 60 models to fit any excavator, wheel loader, skid steer or backhoe.
The ALLU D-Series Screener Crusher Bucket also saves money by lowering transportation costs. It can be easily moved around the job site or to different sites as it is mounted on an excavator, wheel loader, skid steer or backhoe.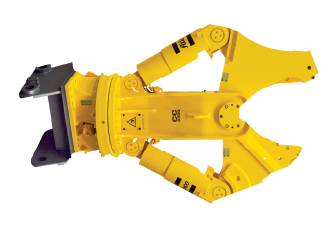 New Jaw Version Turns Combi Cutter into Mobile Shear
At bauma 2013, Atlas Copco will launch a new jaw variant that turns the CC 3300 Combi Cutter into a mobile shear.
The CC 3300 follows the design of the entire product line of Atlas Copco hydraulic combi cutters. The system with the 2 movable jaws and the 2 lifting cylinders has stood the test: it offers a constantly high crushing force throughout the entire closing process.
And the combination of a single- and double-blade jaw arm provides maximum stability even under extreme loads. The new Mobile Shear jaws (MS version) is an addition to the universal jaws (U version), steel cutting jaws (S version, for secondary reduction) and box shape jaws (B version) which are all available for the CC 3300.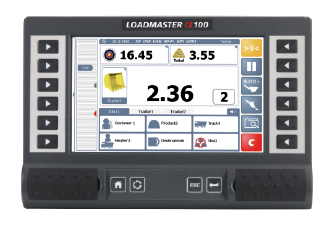 RDS Launches LOADMASTER a100
bauma 2013 will see RDS Technology launch the LOADMASTER a100 on-board weighing system that is described by the UK-based manufacturer as being the new industry benchmark in terms of accuracy and ease of use in difficult conditions and terrains.
The RDS LOADMASTER a100 is an all-new CAN based system combining cutting edge sensor technology and signal processing techniques providing precise and consistent weight information.
Also making its bauma debut will be the Loadmaster iX range of on-board weighing systems which benefit from additional standard features including temperature compensation enhancing system perfor-
mance particularly on machines with a wide variation in operating temperature and angle compensation providing an additional level of precision beneficial on most sites and not only those with obvious slopes.