Keeping Airports Dry and Safe from the Ground Up
Kelly Slociak,
CFA Marketing Communications,
Special Collaboration
---
With the Middle East set to become just one direct flight away for 7 billion people by 2025, it is fast becoming the global center for aviation. As a result of this exponential increase in popularity, airports all over the Gulf region are being transformed at an unprecedented rate to meet these new demands.
As waterproofing usually only accounts for 3 - 5% of a construction project's total spend, its importance can be underestimated – especially at airports where safety and performance are considered more paramount. And as it is also responsible for more than 25% of problems in the post construction stage, it is crucial to get it right first time to protect the huge volume of passengers that pass through every day.
For almost 50 years, owners, architects, engineers and contractors at many of the world's most high-profile airports have turned to Grace for proven, high performance waterproofing solutions. With the company's wide range of innovative products and fit for purpose solutions for all areas of the airport complex – both refurbishment and new-build – it is clear to see why.
Grace's fully adhered Preprufe® waterproofing membrane provides maximum protection against water pressure, ground settlement and contaminants. It is the ideal choice for airport developments in the most prestigious locations – including the Middle East where countries are spending billions of dollars to expand their airports to meet the future needs of a rapidly expanding sector.
Flying the flag for Grace
A key project in Qatar's national development strategy, the Hamad International Airport (formerly known as New Doha International Airport) forms a gateway for millions of domestic, leisure and business passengers in Doha. When it opened in 2013, it became the world's first airport designed and built specifically for the Airbus double-decker A380.
Replacing an existing facility to increase passenger and cargo-handling capacity, the landmark development is set to handle up to 50 million passengers every year. It will see the creation of 2 runways, 80 contact gates, 25,000 m2 of retail space and multi-level short-term and long-term parking facilities.
With a reported cost of over $15 billion, the project required a proven, high performance waterproofing system which is built to last. To meet these demands and deliver an airport fit for the future; approximately 500,000 m2 of Preprufe® has been applied on all of the airport's new buildings – including the control tower, road tunnels beneath the runways and terminal buildings.
Only 19 km north of Jeddah in neighbouring Saudi Arabia, the King Abdulaziz International Airport (KAIA) is the Kingdom's busiest and third largest airport facility. Serving 18 million passengers annually, the airport's three stage redevelopment began in 2006 and is scheduled for completion by 2035 – taking capacity up to 80 million annual passengers.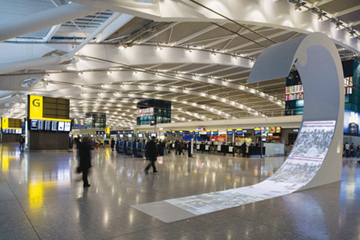 The first phase, which will increase airport capacity to 30 million, includes renovation of the existing 2 terminals, runway upgrades, 94 aircraft bays and a dedicated railway station serving Makkah and Madinah.
With longevity, durability and proven performance vital, over 100,000 m2 of Grace's Preprufe® membrane was applied to the new multi-level car park and number of ancillary buildings to prevent water penetration and migration around the development's substructures.
In neighbouring United Arab Emirates, developers at the Abu Dhabi International Airport turned to the expertise of Grace for the waterproofing protection of a new 750 ha main terminal building. Set to increase capacity of the airport from 17 million to 30 million, it is the largest single undertaking in aviation history, with a total value of close to $3 billion.
Scheduled to open in 2017, the terminal building has been described by the CEO of the Abu Dhabi Airports Company leading the development as: "A challenge on a truly global scale with an opportunity to deliver one of the most ambitious infrastructure projects worldwide."
Over 200,000 m2 of Preprufe® is being applied to both the main terminal building and a large logistics and baggage-handling basement. As the new substructure is located beneath the water table, the membrane had to offer trouble-free resistance to hydrostatic pressure from groundwater, with the unique properties of Preprufe® once again fitting the bill.
Further east in Oman, the $1.8 billion expansion of Muscat International Airport is set to increase passenger handling capacities to 12 million. The creation of a new runway, departure pier, civil aviation HQ and control tower is the largest project ever undertaken in the history of the Sultanate, and is expected to be complete by April 2014.
Located a short distance from the Gulf of Oman, Grace's Preprufe® waterproofing membrane was specified to provide long term substructure protection against water ingress. Applied to the main terminal building's basement and roof, over 100,000 m2 of the waterproofing membrane will provide outstanding protection to ensure airport operations run as smoothly as possible.
Waterproofing you can trust
Preprufe®, which incorporates Advanced Bond Technology, consists of layers of HDPE film, synthetic adhesives and a weather resistant coating, providing an impermeable barrier, in which water, salt and sulphates cannot pass.
Unlike other membrane systems, the Preprufe® waterproofing membrane does not rely upon hydration processes or swell in contact with water, and can withstand a 70 m head of water, therefore is truly waterproof. It remains sealed to the structure, regardless of the ground settling, and is lightweight, flexible and versatile.
It can also be applied on wet substrates or in extreme heat and is immediately ready without protective layers to receive rebar installation, proving to be a faster and simpler application than many other waterproof membranes. Preprufe® is actually more than five times faster to install than a traditional loose-laid PVC system – a key requirement at airports.
Speed of installation is crucial as almost every airport is on a fast track process for both design and construction. Delays can mean the airport opens late or suffers additional downtime, which is not only embarrassing for the client and all involved but expensive for the contractor. Whether caused by leaks during the operation of the airport, or in baggage handling areas, passenger transfer tunnels, access routes – it can massively affect the airport's operations and in turn their profits.
So it is absolutely crucial to specify a waterproofing system that is proven to work in the most challenging environments. Applied to buildings exposed to a variety of different climates and weather conditions, Preprufe® has been used at high-profile and widely varying airports all over the world, from projects throughout the Middle East to John F Kennedy Airport in New York, London Heathrow in the UK and many more.
The success of global airport projects which have used Preprufe® perfectly demonstrates the importance of specifying a geomembrane which is fit for purpose, economically and environmentally sustainable and delivers waterproofing performance like no other system on the market. Proven to deliver in the most challenging environments, Preprufe® continues to be chosen to protect many of the world's most important buildings and structures.