FLO Components to Feature SKF MonoFlex Fluid Grease System
at Truck World 2014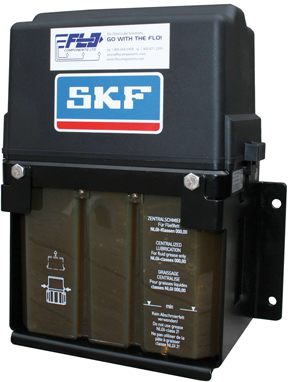 Automatic Greasing Systems specialist FLO Components Ltd. will be featuring the SKF MonoFlex Fluid Grease automatic lubrication systems at Truck World 2014 April, 10-12, 2014, in Toronto, Ontario.
According to FLO's marketing specialist Gabriel Lopez, Truck World 2014 will be FLO's official introduction of the SKF brand of autogreasing systems to the trucking industry in Canada.
"FLO Components has been 'Meeting Customers' Needs Better' as lube solutions experts and trusted lubrication advisors with the LINCOLN brand of equipment and solutions since 1977. LINCOLN was purchased outright by the SKF Group of Sweden in October 2010. Last year, FLO became the first dual brand System House in Canada for both LINCOLN and SKF brands. At the same time, SKF Lubrication Business Unit restructured its frontline operations and appointed FLO as its full service & support partner for Ontario. FLO now stocks a full inventory of SKF lube product, and we're able to offer the entire spectrum of SKF Lube Solutions, for all applications including on-road trucks and vehicles."
"We're very excited about the SKF MonoFlex for the trucking industry. It is an ideal solution for anyone wishing to use a fluid type grease NLGI #000 to 00. One of the most exciting aspect of the MonoFlex for our customers is that they can use any brand of fluid grease that meets the system specifications – they don't have to use a specific brand," said Mike Deckert, vice president of FLO Components.
Other advantages of the MonoFlex, according to FLO include: a totally electric pump, a pressure gauge installed at the pump as a standard, and adjustable grease distributors.
FLO will be exhibiting multiple different working demos at the show and system experts will be on hand to answer questions.
Source: FLO Components Ltd.