A Few Days Remaining to Register Sustainable Construction Projects for Holcim Awards Competition
The Holcim Awards for Sustainable Construction, a $2 million competition, recognizes innovative projects, community plans, buildings, technologies and ideas from around the world that deliver economic and social performance while considering environmental impact. Entries for the 4th cycle of the Holcim Awards must be submitted online at www.holcimawards.org before the close of registration on March 24, 2014 at 14:00 GMT. It is open to professionals, academics, students and project owners from around the world working in the fields of architecture, urban design, civil engineering, brownfield redevelopment, community planning and related fields.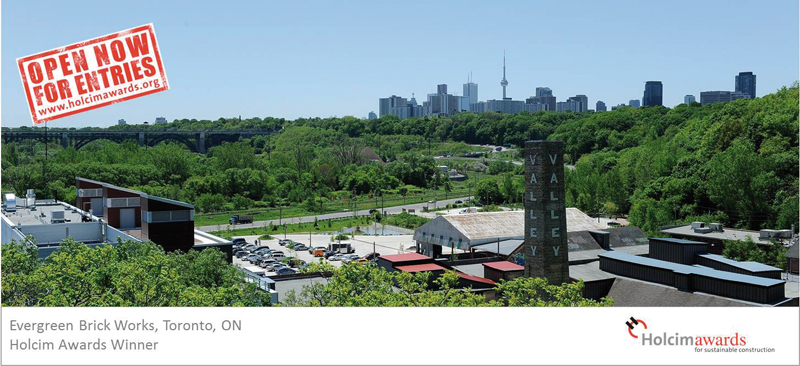 Past Canadian winners include Regional food-gathering nodes and logistics network, in Iqaluit, by Toronto architecture firm Lateral Office, Greening the Infrastructure at Benny Farm in Montreal by Quebec firm L'OEUF, Living with Lakes Centre for freshwater restoration and research in Sudbury, by Professor John Gunn and Architect Peter Busby, and Evergreen Brick Works in Toronto by Urban Planner David Stonehouse and Architect Joe Lobko.
"The Holcim Awards for Sustainable Construction are an excellent platform for raising the profile of innovative ideas and technologies in the field of sustainable development. Winning this prestigious competition has brought much needed support and publicity to the project, food scarcity in Canada's north and our firm. It has allowed us to share and learn from like-minded professionals from around the world and is a great opportunity for students and new and established professionals to share best practices and inspire one another," Lola Sheppard, Partner, Lateral Office and Associate Professor, University of Waterloo. Regional food-gathering nodes and logistics network Gold-winning Project.
The Holcim Awards, an initiative of the Swiss-based Holcim Foundation, have two categories: a "Main" category for projects with a high probability of execution, for which construction must have started after July 1, 2013, and a "Next Generation" category and young professionals under the age of 30 to submit their visions and ideas at a conceptual level. Projects, ideas and technologies can be of any scale and created from any material however and project owners, teams and students can enter more than one project for the competition. Step-by-step instructions on how to enter the competition are available at: www.holcimawards.org/guides
Ten Canadian projects have already taken home awards. Could yours be next?
Submit your innovative, project, technology or idea by March 24, 2014 at www.holcimawards.org.
Source: Holcim Canada Inc.