Used Equipment Fleet Management for Spring
Paul Hendrix, equipment pricing specialist,
IronPlanet
Special Collaboration
---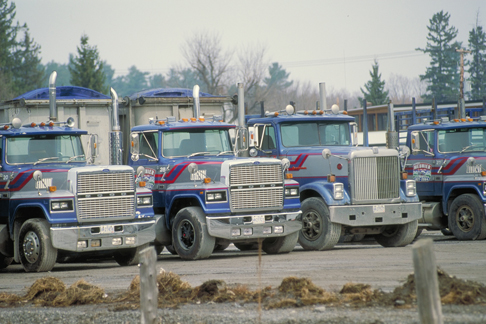 With the official start of spring just around the corner, the number of road building projects in Canada will soon be on the rise. Thus, equipment buyers and sellers would benefit from lessons in inspecting and maintaining used industry equipment. Fleet managers looking to acquire machines should know how to assess pre-owned equipment before purchasing. On the other hand, owners looking to dispose of underutilized machines should keep several key maintenance tips in mind to ensure a successful sale.
Before you buy: the big five
In addition to requesting maintenance records and oil samples, it is important to consider the following areas when inspecting used equipment:
• Mechanical (engine, transmission, power train, hydraulics):
Crank the machine and look for leaks, blowby, smoke, etc. Move the machine forward and in reverse in all gears to check the steering and brakes. Then operate the hydraulics – raise and lower the boom and look for excessive wear. Listen for unusual noises during the process.
• Structural:
Inspect the mainframe and work equipment structures—boom, stick, loader arms, loader tower and linkage. Look for plates or welds, excessive wear and loose or missing hardware.
• Cosmetic:
Check the condition of the cab's interior to ensure seats are not torn and glass is intact. Look for visible signs of corrosion, chipped or faded paints and dented, damaged or missing sheet metal.
• Features or options:
Is it a 4x4? Cab or canopy? Ripper? Are there special attachments, couplers, additional forks or buckets?
• U/C or tires:
Look for wear and damage and record the tire size. Are tires a matched set? Are they recaps? Are they radial or bias ply?
Avoiding a bumpy road
It can be a rough road ahead if equipment buyers do not take the time to inspect a pre-owned item before a purchase. In addition to inspecting the five major areas of used equipment discussed above, consider the following when inspecting the below types of road building equipment:
• Excavators:
Inspect the turntable or swing circle for wear to be sure that the swing area does not have excessive movement up and down between the upper unit and the car body or lower-tracked unit. Place the bucket on the ground and push down to lift the tracks slightly, then repeat while someone watches the swing interface carefully. Little to no movement is ideal. Structural problems with the boom and stick are common on used excavators; stretch out the boom and stick and inspect them carefully for cracks and/or welds.
• Dump Trucks:
Specs are the most important aspect of nearly any heavy truck purchase so buyers should know which are essential to their operation. The introduction of newer emission systems in the last few years has created some additional wrinkles in used truck buying so fleet managers should research which engines have provided good service with little down time. Many end-users prefer automatics because they are more reliable and compatible with drivers' skills. However, other buyers may be better suited for manual transmission trucks.
Inspect the floor of the dump bed for wear by raising it and looking at the steel plating on the floor. If it looks wavy and the location of the ribs or cross members is visible, then it will need to be re-plated. While the bed is raised, inspect the frame rails for corrosion, plates, welds or cracks. Also, look closely at the tailgate, hinges and framing and at front tires for unusual wear.
• Dozers:
Look over the blade and blade linkage for excessive wear, welds, cracks or plates. Buyers should see if certain attachment points have shims remaining as an indication of wear (e.g. trunion caps on straight/tilt dozers). If the linkage is a bit loose and there are shims remaining, some can be removed to tighten up the trunion. Buyers should note that the equalizer bar and pivot shaft can be expensive to repair so special attention should be given to these areas. The undercarriage is the most expensive item in dozer ownership, meaning buyers should know what they are looking at or get a dealer to do a detailed track inspection and provide wear percentages. It is also recommended that buyers note if the undercarriage is OEM or aftermarket.
• Graders:
Inspect the A-frame and blade circle closely for cracks, welds or plates. Check all of the "ball joint" attachment points around the blade linkage for shims as an indication of wear. Look closely at the tandem or drive wheels and where the final drive or chain box attaches to the drive axle. That box pivots and if the seal is leaking it could indicate a wear problem. Stand behind the machine and look at the drive wheels to be sure they do not lean if the seal is leaking.
• Pavers:
Pavers can be purchased in rubber tire or track versions and both drive systems should be inspected closely. Some pavers also have "front wheel assist" or a drive motor on one of the steer bogies under the hopper and this component should be reviewed if it is essential to the owner's operation.
The screed is where the most wear occurs, so screed plates may need replacing. This should not be a deal breaker as long as the screed is in good condition and operates properly. Buyers should note whether attachment points for the screed and linkage are tight, aligned, and straight.
Pavers have large complicated wiring harnesses and most of the components are operated with electric over hydraulic controls. If there is a wiring issue, it can be a constant, ongoing source of problems, leading to unwanted repair costs. Prospective buyers should check all gates, augers, etc. to see that they operate properly. Owners planning to pave at night should also see if light kits are available.
It is important to note that inspections can be completed in person or through a detailed inspection report provided by a trusted independent company. In order to ensure the right purchase decision is made, buyers must take the time to thoroughly inspect the equipment. Often due to time constraints and travel costs it is not possible to inspect the equipment in person. Therefore, utilizing a reputable company that stands behind their inspection reports is critical.
Conducting pre-sale maintenance
All sellers should keep in mind that buyers of used equipment want to purchase machinery that is well-maintained, clean, does not leak and is free of mechanical and/or structural problems. The better care owners take with equipment, the better off they will be when it comes time to sell it. Owners should keep records on file because many buyers of used gear will pay a premium for machines with complete records. Before listing equipment for sale, sellers should review the same components that buyers will inspect before a purchase. In some cases, small repairs ahead of a sale can bring a greater return for sellers. And for faster time to cash, sellers can use an online marketplace to find a buyer in another part of Canada, or even a different country. This also eliminates the need for sellers to move equipment to a physical auction site. Instead, equipment is sold where it sits, saving both time and money.
Inspecting and maintaining key aspects of a piece of equipment ensures that both buyers and sellers know the true condition of equipment. As the days of cold weather subside and warmer temperatures emerge, road building will pick up once again across Canada. To prepare for projects both big and small, fleet managers should develop a strategy for acquiring and disposing machines that keeps the bottom line in mind.