New Concrete Products Attract Sizeable Crowds for
ITW Red Head®/ITW Buildex® at World of Concrete
Two new outstanding entries were the main headliners among an array of products that were demonstrated or on display in the ITW Red Head®/ITW Buildex® outdoor booth at World of Concrete. A fast cure hybrid epoxy that excels in cold weather, concrete anchoring solutions, free design software and competitive pull tests attracted crowds during the four-day show, which enjoyed sunshine and near record temperatures when held January 21-24 at the Las Vegas Convention Center.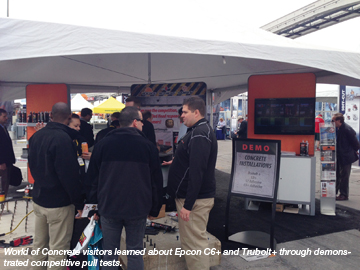 The much anticipated Sammys® for seismic and cracked concrete and Epcon C6+ received impressive reviews from show attendees, and with good reason. Sammys is the industry's first and only cracked concrete and seismic-approved threaded rod screw anchor with a unique trio of head options. Epcon C6+ offers a 35% improvement in cracked concrete bond strength as compared to the next highest-rated brand. Company officials not only were very pleased with the reaction to these products but with the response to the entire product offering.
"Going into the show, we thought Sammys and Epcon C6+ would attract good crowds. So we decided to create a situation where our booth would contain a great product mix, the equivalent of a one-stop shop with hands-on demonstrations showing our superior performance," indicated J Schneider, marketing director for ITW Commercial Construction North America.
"We had a good number of architects, engineers and others find end-user value in what we were demonstrating. The pull tests measuring Epcon C6+ and the Trubolt+® seismic wedge anchors against the competition were very impressive. Epcon S7 performs exceptionally well in cold temperatures below 4°C, and interest was high considering the weather most of North America has experienced this winter. The free Truspec™ anchor software also was a big hit since it saves a considerable amount of time in providing design calculations. Overall, we're satisfied the people we spoke with know ITW Red Head and ITW Buildex have reliable products that get the job done and will work in virtually any kind of environment."
World of Concrete visitors were quick to learn about the unprecedented versatility of Sammys. The trio of Swivel™, Sidewinder™ and Vertical™ head options eliminates rod-bending, and its two-step process reduces installation time by about half compared to a three-step drop-in wedge or multi-piece hardware methods. Using Advanced Thread Form technology provides teeth at intervals on alternating Sammys anchor threads, allowing it to grip into concrete with superb holding power that traditional threads cannot duplicate.
Epcon C6+ offers the highest and most consistent tension performance in submerged applications based on side-by-side pull tests. Beyond the 35% improvement in bond strength when compared to the closest competition in 21°C cracked concrete, C6+ delivers outstanding performance in diamond cored and oversized holes and conveniently installs at job sites even when the concrete is wet.
Epcon S7 yields higher characteristic bond strength in water saturated, water filled and submerged holes than other adhesives. It saves time and money on the job site since construction crews can install threaded rod or rebar in concrete that is too damp or soaked to bond with other adhesives. Designed to simplify specification and code compliance, architects and engineers have the ability to use one calculation across more environmental conditions.
These products have received numerous third party approvals. ICC-ES Evaluation Reports can be obtained at www.itwredhead.com.
Truspec anchor software calculates connections so architects and engineers can design in accordance with ACI 318 appendix D. The free software design quickly implements real-time 3D graphics, color-coded results and value displays in U.S. customary or metric units. Users can predict mode of failure for anchor connections, recommend the most efficient anchoring size and method, and specify anchoring methods to achieve a desired failure mode.