Bergkamp's New MA30 Applies Mastic Surface Treatment To Preserve Asphalt Pavement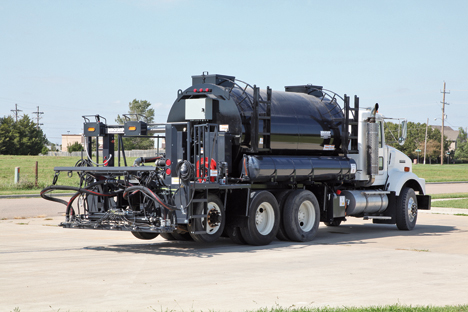 Bergkamp Inc. offers the MA30 Frictional Mastic Surface Treatment Applicator that allows contractors and government agencies to apply frictional mastic surface treatment over highways, roads, parking lots and airport runways to protect the surface and extend the life of the pavement. It applies a material mix that is made to precise specification, which results in fewer operator calculations and on-the-job adjustments, minimizing operator training time. The full-length ribbon mixer works to maintain the proper material consistency, regardless of the truck engine speed during transport to the jobsite. The frictional mastic surface treatment is then applied over the existing pavement through a variable width, low pressure spray bar that has side-shift capabilities.
Frictional mastic surface treatment is a mixture of asphalt emulsion, increased levels of angular fine aggregates, recycled materials, polymers and catalysts. The purpose of frictional mastic surface treatment is to minimize future maintenance treatments and get traffic back on the pavement more quickly.
The MA30 features a 11,350 l material steel tank, which contains a hydraulically driven, full-sweep ribbon mixer with counterflow mixing technology that keeps the aggregates in suspension. In-cab controls allow the driver to operate all systems, including the mixer start/stop/reverse and spray bar start/stop, height and width, extension, side-shift and individual nozzle controls. Application is computer controlled with an onboard system that ensures accurate application rates by continuously varying the pump rate, based on the truck speed and spray width.
The MA30 offers a technologically advanced low-pressure system that operates at less than 2.75 bar (40 psi). It offers single or dual pump operation, with over 100 GPM delivered through the spray bar in single pump mode and over 380 l/min delivered in dual pump mode. In dual pump operation, the product loads in less than 15 minutes. All systems are powered by PTO-driven hydraulic pumps. The hydraulically adjustable spray bar provides double overlap spray widths from 183 to 595 cm, in 46 cm increments.
Source: Bergkamp Inc.