Avant Tecno Introduced Multi-functional Loaders
at CONEXPO–CON/AGG 2017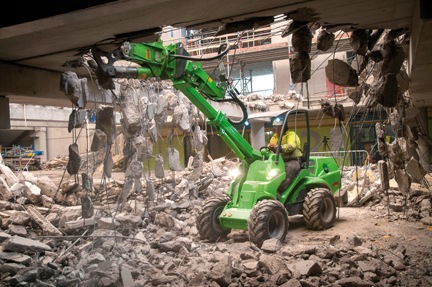 Though Avant Tecno USA is celebrating its 5-year anniversary in North America this spring, it was be their first time exhibiting at CONEXPO-CON/AGG. Avant, manufactured in Finland, is well-known in Europe and in over 50 countries worldwide.
The North American team was showcasing Avant's 200, 400, 500, 600, and 700 series loaders along with various attachments suited for professionals in the Construction, Demolition, Landscaping, and Mining markets.
The Avant loaders are truly multi-purpose, multi-functional machines. With hundreds of attachments to choose from, there is a solution for every market segment from Landscaping and Property Maintenance to Material Handling and Farming. They are especially popular amongst municipalities and many tree-care specialists.
In the Construction and Demolition market, the loaders utilize many attachments in a variety of configurations including concrete mixers, soil screening buckets, vibrating plate and brick paver installation clamp for construction projects; hydraulic breakers, cutter crusher, and an asphalt grinder for demolition jobs. Avant's backhoes, trenchers, and augers are ideal tools for digging applications within construction projects. In seconds, with Avant's unique attachment coupler and hydraulic multi-connector, you can release the attachment and hook up a bucket to carry the debris away.
The lightweight design of the Avant also makes it ideal for work inside buildings. They can be lifted onto a roof, take the freight elevator to the basement, and perform tasks in tight spaces that usually requires manual labor. The hydrostatic drive system, offset telescopic boom providing great visibility, and multi-function joystick give you full precision control for the best possible results.
These versatile machines have multiple cab options, provide excellent lift to weight ratio, and offer low operating and maintenance costs.
Source: Avant Tecno USA