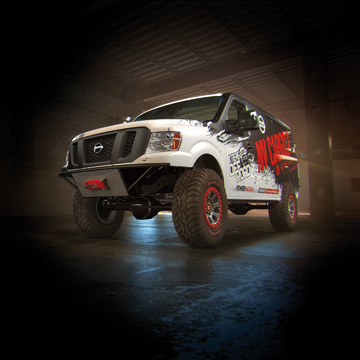 Nissan NV Cargo X Concept
at the Chicago Auto Show
The Nissan NV Cargo X concept was built for Nissan with the help of Ian Johnson, an off-road modification expert and host of the TV show "Xtreme Off-Road".
Starting with a stock NV 2500 HD Cargo – and its rigid, fully boxed ladder frame – Ian Johnson and his team set out to build a custom vehicle that could handle everything from maintenance to mayhem. They kept the stock leaf springs out back and slapped on an off-road suspension system that boosted ground clearance to 55 cm. There is enough space in the wheel wells to fit 37" General Grabber X3 off-road tires.
The concept van is powered by the Cummins 5.0 l V8 turbodiesel from the Nissan Titan XD pickup. It puts out 310 hp and 555 lbf ft of torque. The NV Cargo X also borrows the Titan XD's heavy-duty Aisin 6 speed transmission and 4-wheel-drive system.
Nissan gave the NV Cargo X a special paint, LED lights, a steel-tube front bumper, a skid plate and a 4,500 kg winch.
With 6.6 m3 of available cargo space, the build team decided to go all out – equipping it with all the goodies usually found in an off-road support vehicle. The custom build-out utilized the NV Cargo's standard reinforced mounting points and standard cargo containment system. Ultimately, the cargo bay was filled with an onboard air system, fluid containment and storage, full-size spare, recovery rope, recovery tracks, high-lift jack, portable welder and the always important tool bag.
Source: Nissan North America, Inc.,
Nissan Canada