Kerr Crane Service Adds Demag® AC 250-6 All Terrain Crane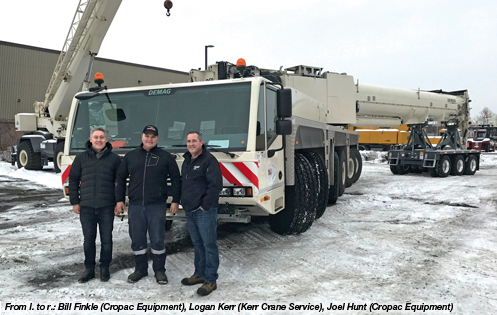 Kerr Crane Service of Timmins, Ontario, recently expanded its crane fleet with the addition of a new Demag® AC 250-6 all terrain crane. With a 79.8 m main boom and impressive load chart, the Demag AC 250-6 crane is the most compact 6-axle crane, which will give Kerr Crane's better maneuverability in confined working areas and easy over-the-road transportation. The new unit joins an extensive fleet of mobile cranes ranging in size from 25 t to 360 t capacity. 
"We wanted a crane that could handle a variety of demanding lifts, was easy to transport between jobs and didn't require a lot of setup time," explains Logan Kerr, vice president at Kerr Crane Service. "The Demag AC 250-6 all terrain gives us the biggest bang for the buck. The crane sets up quickly, has user-friendly controls with a simple operation control system and is cost effective to transport. We save on labor costs, which makes our company a better business partner on future projects."
Kerr Crane ordered the Demag AC 250-6 crane from Cropac Equipment, the Terex Cranes distributor located in Oakville, Ontario. Mr. Kerr says the 79.8 m boom is exactly what they need for their most challenging jobs, and the team at Cropac Equipment has been a responsive business partner for many years. "Cropac always makes things easy for the customer," he adds.
The Demag AC 250-6 all terrain crane is currently being put to work at the Harmon Generating Station in Kapuskasing, Ontario, installing gates in the power house. 
Kerr Crane Service is a division of J. Logan Kerr Limited. Since its inception in 1972, Kerr Crane Service has continued to grow and earned the reputation as a leader in the construction industry.
Source: Terex Corporation