46 Axle Lines of Cometto MSPE for Navantia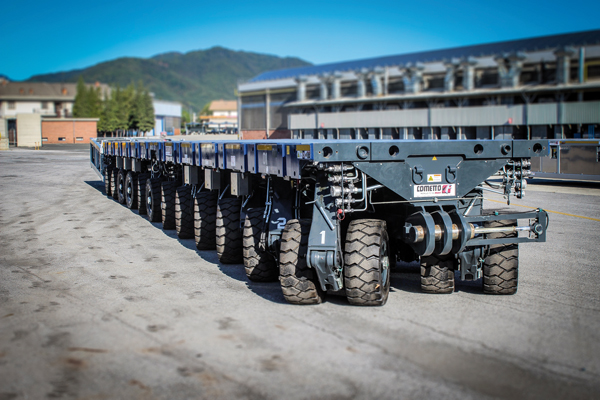 The Spanish company Navantia S.A. recently received 9 modular combinations of self-propelled MSPE 48T trailers from the specialist Cometto. This adds up to an impressive total of 46 axle lines – an amazing volume of powerful vehicles for the heaviest transport challenges!
The supply includes 6-axle modules type MSPE 6/4/2,43 48T, 4-axles modules type MSPE 4/2/2,43 48T and power packs with an output of 368 kW (493 hp) each. Besides the impressive payload capacity, this self-propelled trailer excels thanks to the versatility in configuration and its maneuverability. The MSPE 48T also offers the best compromise between platform dimension, load performance and investment.
One single 6-axle MSPE module can reach a gross weight of 288 t. The MSPE offers the usual interchangeability and system expandability to adapt to any future needs of the customer.
The 2 power packs are equipped with the first Scania engines that have been delivered after the recent partnership between Cometto and the Swedish manufacturer. Each of them comes with the necessary kits for coupling and distance connection. This gives the customer all the possibilities to form lifting platforms of any dimension and shape, according to the specific cargo requirements.
Navantia offers integral solutions to its clients, as it has the required capacity to assume responsibility over any naval program in the world, delivering fully operational vessels and the required support throughout the service life of the product. The company has developed naval programs in over 19 countries and currently has offices in Australia, Qatar, India, Turkey and Brazil.
Source: Faymonville