Mack Trucks and The LEGO Group Team Up on Kit #42078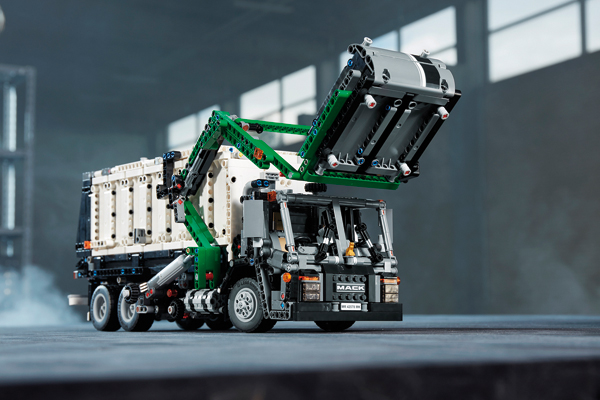 With the new Mack Anthem® grabbing all the attention at truck shows and on the highway, Mack Trucks and The Lego Group teamed up to bring kids of all ages a new 2,595-piece LEGO Technic set.
Like many sets, #42078 is a 2-in-1 kit that lets you build a completely different model using the pieces that are in the box. As long as you download the instructions from the web, the kit for the Mack Anthem® has all the pieces needed to build a model of the Mack® LR front loader refuse truck.
"This is the first time the launch of a LEGO Technic set has coincided with the launch of the actual product to market," said John Walsh, vice president of marketing, Mack Trucks.
"We worked extremely hard with the LEGO team to deliver a true-to-life representation of the Mack Anthem that folks everywhere will enjoy, whether they're associated with trucking or not. We are particularly thrilled that LEGO designers ensured the ultimate finishing detail by immortalizing our Bulldog hood ornament in LEGO form, which speaks volumes to the value they saw in partnering with the Mack brand."
Mack and LEGO designers began collaborating on the project in mid-2016 with a series of online and in-person meetings. The LEGO design team traveled to Mack's Greensboro, North Carolina-based headquarters to drive the Mack Anthem and LR models on a test track, giving them first-hand experience with the trucks' scale and presence.
"The Mack product design team had fun working with the LEGO Group and their team, but we took this as seriously as we would any other project," said Lukas Yates, Mack chief designer – exterior. "We're excited about the outcome and the opportunity the partnership has provided to build another lasting impression of the greatest name in trucks."
Source: Mack Trucks