Big Plans for Daewoo Heavy Industries and Machinery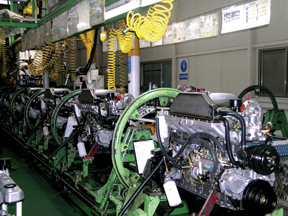 Following the acquisition of a controlling share of Daewoo Heavy Industries & Machinery, Doosan Heavy Industries and Construction formed a consortium with its subsidiaries, HSD Engine, and Doosan Mecatec.
Doosan anticipates significant synergy effects to emerge from this consortium. The engineering, production, and material technologies of Daewoo Heavy Industries will be shared among the consortium members in addition to their overseas marketing networks.
Kim Dae-Joong, President of Doosan Heavy Industries and Construction, commenting on the selection of Doosan as the preferred negotiating partner in the sell-off of Daewoo Heavy Industries and Machinery, announced on October 27 that after the takeover, aggressive investments will be made for the development of Daewoo as a member of the machinery industries Global Top 5 by 2010.
To this end, and to enhance the competitiveness of Daewoo's products, Doosan plans to strengthen the research and development capacity at Daewoo (an area where Daewoo has been somewhat lax under the corporate workout program), as well as beef up facilities investment.
In addition, the company plans to effectively integrate the overseas marketing networks of Doosan (centered on the Middle East and Southeast Asia) and Daewoo (focused on China and Europe). Through this, Daewoo is set to construct a new global network, and develop a market in which (aside from China) it will hold the majority market share.
As for employment, Doosan plans to create a labor culture that will facilitate a win-win situation between labor and the company by establishing communication channels for reciprocal cooperation, and through the guarantee of job security for Daewoo employees. Notably, after the takeover the company plans to operate Daewoo as an independent affiliate rather than seeking a merger or spin-off, will take into consideration the value of each business division at Daewoo and strive towards reciprocal synergistic effects.
Source: Doosan Heavy Industries and Construction,
Daewoo Heavy Industries & Machinery