Erican Construction Recycles
Former Concrete Waste With AwJaw Bucket Crusher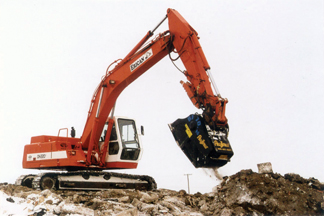 Due to the high clay content of the soil in the Regina, Saskatchewan area aggregate must be trucked in from outside. For Regina based Heavy Foundation Specialists, Erican Construction Ltd., this problem was doubly frustrating because they were land-filling waste concrete from foundation work. But with the use of an AwJaw Bucket Crusher Erican Construction has turned concrete waste into a secondary aggregate supply for new consruction jobs while reducing landfill waste.
The AwJaw Bucket Crusher, distributed by The St. George Company, turns an excavator into a professional crush plant. Inside the bucket, massive jaws reduce concrete, brick or rock into aggregate from 6" minus down to 3/4" minus. The bucket's wide jaw open design allows it to handle concrete with rebar, wire mesh and other foreign objects with ease.
The St. George Company Ltd. has been distributing innovative products for construction, forestry and agriculture for 25 years. Headquartered in Paris, Ont., with a satellite office in Foremost, Alberta, The St. George Company Ltd provides sales and service for a range of AwJaw Bucket Crushers to fit most excavators.
Source: The St. George Company Ltd.
Nick Quail, 1-800-461-4299