New Canadian Distributor for Comacchio Drilling Equipment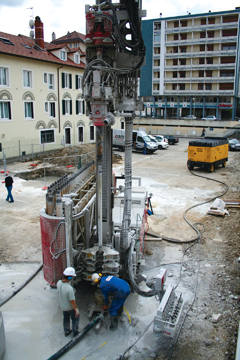 Eastrock Inc. has been awarded Canadian exclusivity for Comacchio drilling rigs. The company, renowned for its outstanding customer support in the rock drilling industry, will combine the same customer-centered philosophy with the Comacchio passion for quality products.
Comacchio holds a prominent position, worldwide, in the small to medium sized drill market with hundreds of units operating in the fields of geotechnic, ground consolidation, anchor drilling and geothermal energy.
Eastrock is particulary pleased to bring the Comacchio product ingenuity to the Canadian geothermal community. Geothermal applications are focused on capturing heat from earth and are becoming more popular, economical, and environmentally friendly for all types of heat pump installations. Comacchio has over 10 years of geothermal drilling experience in various countries throughtout the world.
In particular, the Comacchio MC900GT – which merited a "special mention for technical innovation" at the 2008 SAMOTER exhibition in Italy – is unique for its patented automatic loading system for both drilling rods as well as casing. This improves the drilling cost by minimizing labor requirements as well as enhancing safety by eliminating the manual handling of drill rods and casings. The recovery of the casing is also a cost saving feature not possible with traditional well drilling equipment.
Comacchio offers both double and single head drilling systems depending on the terrain. The MC900GT double-headed system allows for casing and DTH drilling, reaching depth up to 160 m or 300 m with DTH hammer only. With the use of tri-blade bits and the mud pump, it allows for cleaner operations, which is critical in residential applications. Single headed systems like the MC455GT can drill to a depth of 200 m using the DTH hammer only. The MC455 has several technical advantages over the other rigs on the market. The largest being the patented automatic drill rod loading system with a 198 m (600') capacity. The unit also has a slewing ring which allows 360° rotation of the undercarriage to maximize productivity in positioning the unit.
Source: Eastrock Inc.