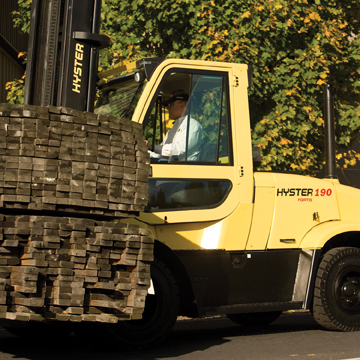 Hyster Introduces the H170-190FT
Line of Heavy Duty Lift Trucks

Hyster Company, a leading lift truck designer and manufacturer in North America, introduces the newest addition to the Fortis® line of lift trucks: the H170-190FT. These new trucks accommodate much larger loads without a dramatic increase in truck size or expense. Based on the current Hyster® H135-155FT model pneumatic truck, these new capacity models offer a longer wheelbase, a more powerful drive train, and a new mast to accommodate loads up to 8600 kg.
Ideal for use with lumber, steel, and concrete applications, the H170-190FT line offers several features that allow for lifting capacities similar or equal to those of much larger trucks. A new, heavier VISTA® mast provides superior load support during lifting and lowering while offering optimal operator visibility. The Hyster turbocharged and intercooled Cummins QSB3.3 turbodiesel engine provides 110 hp at 2400 RPM and 305 ft-lb of torque for maximum performance.
To accommodate heavier loads, the H170-190FT series is outfitted with an upgraded drive axle and an oil-cooled brake design, as well as larger hubs that increase truck stability. A new modulated brake system provides consistent pedal travel versus brake line pressure for optimum operator control. To ensure operator safety, an accumulator is used to store hydraulic pressure for full braking power in the event of unexpected loss of engine power.
Fully-tested through the Finite Element Method (FEM) to ensure ruggedness and durability, the H170-190FT series offers the strength and productivity needed when moving heavier loads. With a durable power train and mast design, turbocharged diesel engine, and enhanced hydraulics, the Hyster H170-190FT line of lift trucks features proven efficiency and superior durability.
Hyster lift trucks are supported by one of the largest and most experienced dealer networks in the industry. Hyster customers have access to an expansive parts availability program, in-depth operator training and product customization for special applications. Hyster Company also offers the industry's most comprehensive standard warranty and affordable and flexible financing programs.
Source: Hyster Company