Hole Lot of Reasons Balfour Beatty Chose Atlas Copco
At 1.8 kilometres long running beneath the Devils Punchbowl, a site of special scientific interest, the twin road tunnels of the Highways Agency A3 Hindhead Tunnel project will be the longest non-estuarial tunnels in the UK. Balfour Beatty, the main contractor for the project, reached the stage where they were faced with the task of core drilling approximately 13 000 holes in the walls and floors of the tunnels. The main requirements of the core drills had to be speed of drilling and reliability.
The holes in the tunnels´ shot-crete walls needed to be 40 mm diameter, 150 mm deep and drilled every 750 mm at an upward angle using rigs mounted on the concrete shutter units. The holes in the tunnel floor needed to be 137 mm diameter and 220 mm deep drilled vertically every 2 m using a portable drill rig. Both sets of holes are needed to ensure total stability of the automatic concrete shutter units when forming the concrete tunnel lining sections in-situ.
With just under 1,8 km on each of the twin tunnels needing to be lined, it meant that approximately 9500 holes at 40 mm and 3500 holes at 137 mm needed to be drilled.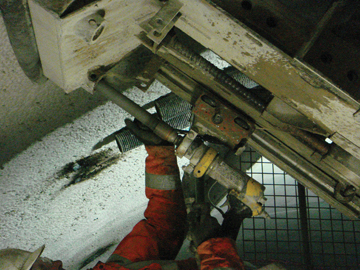 The technical solution was provided by Ted George, Atlas Copco´s regional sales manager, and Shayne Major,managingdDirector of Major Diamond Supplies Ltd. (MDS), Atlas Copco´s specialist distributor for diamond drilling and cutting.
Chosen for core-drilling the walls were eight of the new Atlas Copco LCD 1500 hydraulic core drills, two per shutter, each powered by an Atlas Copco 3 phase electric, 20 l/min hydraulic power pack. Electric power packs were selected because they do not pose a problem in the tunnels with exhaust emissions.
Dave Carver, the Tunnel Agent for the project, is very pleased with the performance of the core drills. "The drilling rate, reliability and robustness of the Atlas Copco LCD 1500 core drills are far better than the electric core drills being used initially and has saved us a lot of time. Because they don´t draw in air to keep cool, like electric tools, they don´t suffer the problems caused by ingress of water and dirt. When you have thousands of holes to drill, time saved on every hole and lack of breakdowns soon adds up.
Source: Atlas Copco