SCHWING-Stetter Announces Current World Record in Vertical Pumping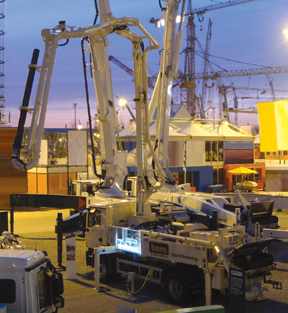 SCHWING sets new standards at bauma 2010 with a new world record in vertical pumping: 715 m – with an SP 4000, a stationary medium-size concrete pump that was successfully employed at the Parbati hydroelectric project in India.
SCHWING-Stetter again impressed visitors at this year's bauma with numerous new and further developments in all product areas of ready-mix concrete technology.
The company now documents the environmental and climate protection activities it has been carrying out for decades in some cases. Like the trimodal transportation system – rail, road and inland shipping. The motto "Go Green Consciously" has a challenging undertone intended to motivate people both within and outside the company to get involved. SCHWING GmbH has taken considerable measures to reduce CO2 emissions by 100 t annually, for instance. In addition, in-house communications are increasingly in paperless form, parts shipment extensively takes place using returnable packaging and also compostable plastic film. Paints for the machines have been completely changed over to a water-soluble base, thus reducing solvent output by 30% while providing increased covering power at the same time.
As is generally known, SCHWING offers exceptionally energy-efficient, i.e. fuel-saving, as well as low-wear machines to other companies. This means the green initiative is also supported and practiced by the customers – combined with the pleasant effect of saving operating costs and expenses.
Source: SCHWING GmbH