Volvo Selects Top Service Technicians for 2007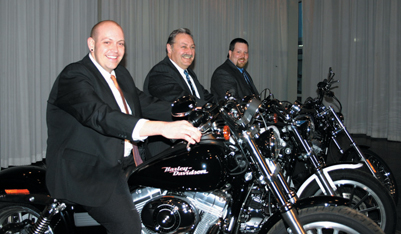 No one knows Volvo trucks better than the technicians at Volvo Trucks North America's 325 dealerships. On April 12, the best of the best service and parts personnel from Volvo's dealer network gathered at Volvo headquarters in Greensboro, North Carolina, to choose the North American winners of the Volvo VISTA competition.
VISTA is a hands-on competition to select the top dealer service and parts personnel, and to highlight technician excellence. It is also an exciting and effective way to maintain a high level of technical skill and proficiency in the Volvo dealer network. Hundreds of people compete in the six-month program, which requires a significant dedication of time and effort by the participants. The VISTA competition is held every two years among three-person teams fielded by Volvo dealers, usually consisting of a mix of service and parts experts.
The 2007 North American VISTA competition was won by the team from Beaver Truck Centre, of Winnipeg, Manitoba. The team consisted of Dan Teleglow, Dennis Baehnk and Chris Dunn.
Another Canadian team - from Surgenor Truck Centre, of Ottawa, Ontario - finished in second place.
For winning the competition, each member of the Beaver Truck Centre team received a new Harley-Davidson motorcycle and top-of-the-line Snap-on tools.
There are three rounds of competition involving online technical questions to produce six teams of finalists - one from each of the four U.S. regions, and two from Canada. The six teams then traveled to Greensboro for the final round. All the answers for the written questions are contained in Volvo service and parts literature, and the finalists were tested on their knowledge of service bulletins and ability to look up parts and service information within the Volvo system. There was also a strong hands-on element to the competition, where the contestants had to troubleshoot predetermined faults placed on a Volvo truck.
Since the VISTA program began in Scandinavia in 1977, Volvo has seen a strong correlation between dealers with teams in the final round and high customer satisfaction indexes. This has been linked to dealer leadership and willingness to invest in personnel and competence development. Globally, about 12 000 dealer personnel from 68 countries took part in VISTA competitions in 2007.
The winners from Beaver Truck Centre credit much of their success during the frequently intense competition to effective teamwork.
"The nerves really kicked in at first, but we came through as a team," said Dennis Baehnk. "We always work as a team at the dealership."
VISTA is an excellent learning tool, that gives dealership employees greater ability to satisfy customers, according to Chris Dunn. "It's the best way for us to learn about Volvo trucks and engines."
Source: Volvo Trucks North America