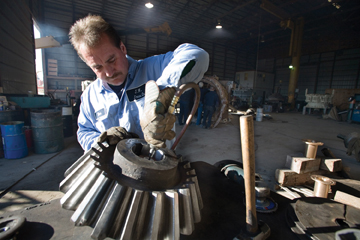 JW Jones Has Remanufactured & Sold More Than 1000 Cone Crushers Worldwide
JW Jones Company, based southwest of Indianapolis, Indiana, specializes in remanufacturing and refurbishing all makes and models of aggregate and recycle crushing, screening and washing equipment to upgrade operational efficiency and provide a greater return on investment for contractors and producers worldwide. The company has a strong reputation for completely remanufacturing portable and stationary cone crushers to perform like new or better, including Symons, Nordberg, Telsmith, Cedarapids* and many other brands. JW Jones management estimates that it has remanufactured and sold more than 1000 cone crushers worldwide to date—with 60% of those being Symons cone crushers.
Most often, JW Jones searches for, acquires, and then remanufactures cone crushers from the ground up – including the chassis on portable units – in a part of its 9300 m2 facility. Each cone crusher is completely taken apart, evaluated, remanufactured and then sold to contractors or producers worldwide at up to 50% of the cost of a new cone crusher. Any part that is out of specification gets replaced, including: liners, main frames, bushings, gears, hoppers/bowls, heads, shafts, bearings, seals, housing, springs, motors, pumps, alarms and all other wear parts. The company offers up to a six-month warranty and sometimes longer.
These remanufactured stationary and portable cone crushers are available in size ranges from 0,6 m up to 2,1 m. JW Jones remanufactures cone crushers engineered to crush materials of almost any hardness – from limestone to river rock. Drawing from more than 40 years of field experience, JW Jones can customize other manufacturer's cone crushers to fit almost any plant operation with production requirements up to 1500 t/h.
Installation, startup, parts and wear components are also available through JW Jones, which provides its customers around the world with a full-service relationship.
*Symons and Nordberg are registered trademarks of Metso Minerals Industries, Inc. Telsmith is a registered trademark of Astec Industries, Inc. Cedarapids is a registered trademark of Terex Corporation.

Source: JW Jones Company