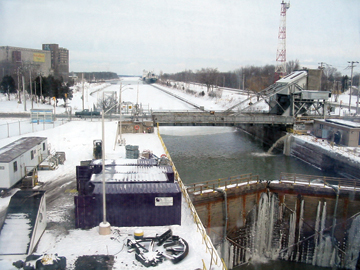 The Seaway Turns Green
Thanks to the determination and concerted efforts of the department of engineering at the St. Lawrence Seaway Management Corporation (Seaway), Bosch Rexroth and Enviro-Énergie, the network of locks, channels and canals which connects the Great Lakes and the Saint-Laurent has achieved a "Green turn" by relying on the quality and the world expertise of PANOLIN, a Swiss manufacturer of biodegradable and non-toxic lubricants for over 30 years. PANOLIN is used in more than 40 countries and its expertise has been tested in more than 800 000 equipments (mobile and stationary) achieving beyond one billion hours of oil in service.
Indeed, the Saint-Laurent Seaway, considered as a major technical achievement of the 20th century, has chosen the PANOLIN's biodegradable and non-toxic hydraulic fluid for the hydraulic conversion of the locks opening directly on Lake Ontario and Lake Erie. Because their geographical location on the Welland Canal, theses locks have the greatest potential of water contamination for these two Great Lakes. The whole project required a volume of approximately 25 000 liters of PANOLIN's biodegradable and non-toxic hydraulic fluid.
On March 31st, 2009, the St. Lawrence Seaway celebrated its 50th anniversary at the St. Lambert Lock. Inaugurated in 1959 by Queen Elizabeth II and President Eisenhower and proclaimed as one of the ten most outstanding Canadian engineering achievements of the past 100 years, the Seaway stands as evidence of an enduring asset. Since its inception, over 2,5 billion t of cargo valued in excess of $375 billion has been transported via the Seaway.
Distribution Enviro-Énergie, the Canadian importer of PANOLIN's bio-lubricant, is proud to share PANOLIN's technology, know-how and the professionalism with Canadian companies concerned with their environmental image.
Source: Distribution Enviro-Énergie