Two New Subaru Engines
Robin America is pleased to announce two new engines. A new 28 hp Electronic Fuel Injection EH72 V-Twin engine, and a 25 hp LP/NG keyed shaft engine.
The new EH72 FI was developed as a high performance engine in a package size that is only 4 mm higher than the current 25 hp.
The EFI engines run on a open-loop system, which utilizes an electronic control unit (ECU). Using several different sensors that are able to accurately detect manifold pressure, ambient temperature and throttle position, the ECU is constantly relaying information to the injectors, which are then able to deliver the proper air-to-fuel ratio. The result of this continuous relay of information is an engine that is always running at an optimal level, resulting in better fuel economy and emissions control. Allowing for differences in operating speed, applications and fuel type, the estimated fuel economy improvements are 11 to 25% over that of a similar carbureted engine.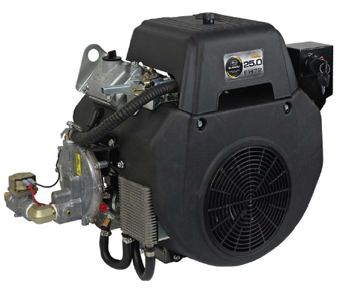 This engine features a two-barrel manifold with a fuel injector for each cylinder. This allows each cylinder to operate independently of the other, which aids in fuel optimization and also improving the engine's efficiency and performance. Altitude changes pose no threat to the EFI engine's operation, thanks to precise oxygen level detection from the ECU sensors. The system is able to identify changes in altitude and instantly adjusts the air-to-fuel ratio to make it ideal for the current location.
Utilizing its experience in gaseous fueled engines for the home standby generator market, Subaru has created a keyed shaft EH72 engine optimized to run on vapor withdrawal LP or natural gas. This new engine configuration is EPA and CARB certified for both stationary or portable applications. Anticipated applications include hot water pressure washers and oil and gas field equipment.
The EH72 LP/NG engine has been packaged to meet the widest possible application usage and to improve convenience and safety. The engine includes a close coupled regulator bracketed to the oil filter side of the engine. An electric shut-off fuel valve is pre-installed on the regulator. A special oil pressure sensor is wired to shut-off the engine and fuel source in case of a low oil pressure condition. A key switch and control box is included as standard equipment on this engine. The PTO is a popular 28 mm diameter keyed shaft. The only option is the muffler. Any muffler kit may be used except on the oil filter side (due to the regulator).
Source: Robin America, Inc.