Trespa Meteon enhances the Kelly Residence in Los Angeles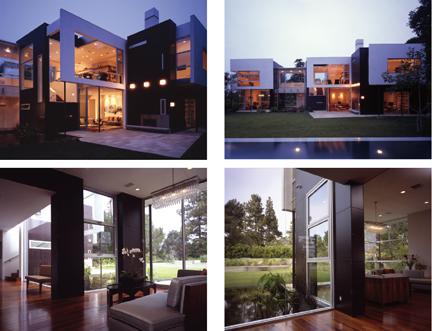 This stunning private house, known as the Kelly Residence, overlooks the Getty Museum in Los Angeles. Designed by award winning Abramson Teiger Architects, it comprises a staggered series of three interlinked cubes. Built on a gently sloping site, the house is flooded with daylight and blends in harmoniously with its environment.
The Abramson Teiger philosophy is "to use subtle and stripped down forms and shapes, allowing the simplicity of mass and its material to govern. Light is used to modulate surfaces, diminish walls and expand glass. The result is visually dynamic architecture, which opens dramatically to expansive views and vistas, evokes a sense of peace, sanctuary and productivity."
The natural character of the house is enhanced by the use of satin finish Trespa Meteon panels in the simulated dark wood known as Wenge from the Wood Decors range. Small stainless steel fixings are visible around the panels to emphasise the rainscreen application of the cladding which is visible both from the exterior and occasionally from the interior. Increased drama and contrast with the dark wood facade has been achieved by the added accent of rectangular white frames which project from one side of each cube. In total, 390 m2 of Meteon panels have been used for the house, combined with large areas of full height glazing.
Source: Trespa International BV

Cet article est également publié en français