5th Edition of INTEROUTE&VILLE, Lyon, France
INTEROUTE&VILLE is an essential event for the road community. To be held from October 2 - 4, 2012, it will welcome to Lyon all players who work in regional planning, all within a framework of sustainable mobility: project managers, contractors, private companies and suppliers of materials, equipment, machinery and solutions dedicated to transport infrastructure.
This means that nearly 250 exhibitors and over 7,000 visitors are expected for this edition of the trade show which will be highlighting information and communications technologies (ICT) that benefit sustainable mobility.
Four months out from the event, and with set-up in progress, our objectives have already been 70% met, and a third of confirmed exhibitors to date are new to the event. Leaders in major sectors have already put up their hands:
Construction: Colas and its subsidiaries, Eiffage TP, Eurovia,
Roading design and engineering: Technilab, Vectra, Ginger CEBTP,
Equipment: Fayat, Claas, Rousseau, Arvel,
Materials: BASF Construction Chemicals, Shell, Total, BP France, Saint GobainAdfors,
Signage: 3M, Aximum, Signature Group, Signaux Girod
Their presence will help provide accurate responses to the recurring and daily questions confronting moving infrastructure managers and policy managers: design, construction, security, development, maintenance, upkeep, management and running.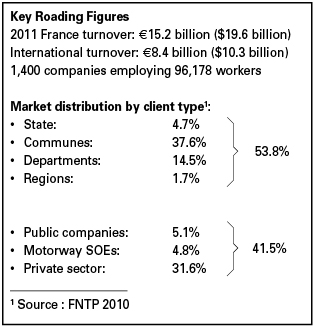 Even though the road remains the essential mode of transport for freight (88%) and people (87.5%), for several years now, it has been undergoing massive changes both technically and technologically as well as in its operating method. France has over one million kilometres of roads, creating the most dense roading network in Europe and also acting as a pillar for the country's economic, tourist and cultural life. Furthermore, at the Grenelle de L'Environnement, one of the principles announced was the modal shift which consists of improving travel mode synergy in order to optimise the flow of freight and people. However, this transport mode synergy cannot occur without the contribution of ICTs, especially since innovations have contributed so much over the past few years to the implementation of intelligent roads, which notably combine improvements in maintenance and geolocation.
Consequently, innovation is at the heart of the 2012 trade show, starting in the intelligent infrastructure village which will host energy, information technology and communication themes as well as interlinking software. But equal emphasis will be placed on materials which respect the environment.
Within the trade show framework, the first IDDREM conference will bring together project managers, companies, suppliers, contractors, research and training bodies, and associations which partner the infrastructure sector.
Participants will be exchanging ideas around the theme of the future of land-based transport infrastructure in order to imagine tomorrow's roads and mobility.
"The last few years have seen massive changes in the use of roads. Finished are the 'cardomaximi', with preference now going to 'decumani' in which we now phone, work, and eat. And the roads which no longer all lead to Rome are now safer due to technology's extraordinary evolutions. In addition, remember that France has maintained its exceptional leadership in the area of know-how dedicated to roading in general and sustainable roading in particular. Additionally, this know-how is an excellent asset in terms of exports!," states Maryvonne Lanoë, exhibition manager.
Every two years, INTEROUTE&VILLE brings together professionals who design, build, maintain and operate motorway infrastructure, urban road networks and public transport platforms, and who develop public spaces.
Source: Comexposium