Insuring the Wind
Rob Cruickshank, Director of Construction and Renewable Energy, RSA Canada
Special Collaboration
---

The growing Canadian wind energy industry presents a world of opportunities for project stakeholders – and for insurance, an interesting set of risks for every stage of a wind project from cradle to grave. Wind energy is big business, from planning to parts manufacturing, supply and repair, transportation, turbine construction, operation and repair, right through to disposal. Each one of these project aspects encompasses a unique and multifaceted set of perils to be considered in the underwriting process. As a global company, RSA has been insuring wind energy projects at every stage of development for over 30 years; as the Canadian market becomes increasingly wind-friendly, we have collected a few lessons from our European counterparts in addition to some homegrown experience. Here's a little bit of what we've learned about the dynamic and complex business of insuring wind.
According to the Canadian Wind Energy Association (CanWEA), the total cost of a large scale wind farm ranges from $2.2 million to $2.8 million per installed megawatt of generating capacity, with the wind turbine making up 70% to 75% of the cost, and engineering, site service and construction creating the balance. For a project of this scale, the comprehensive planning phase alone generally takes more than two years, during which a long list of possible pitfalls is presented. With so many moving parts, there is potential for project delays at any stage in the planning process. Leading up to construction, project development includes municipal consultations, wind resource assessment, design, environmental assessment, land acquisition, permitting and public consultation, economic and financial analysis, manufacturing and eventually site preparation. Within each of these steps are rigorous approval and administrative processes involving legislation, multiple stakeholders, consultants, and government bodies. Although insurance (including physical and liability related risks) comes into effect once the project is started, understanding this rigorous process and the potential delays is part of knowing the client's business and the challenges they face.
Once all approvals are satisfied, the site is ready to be prepared and insurance comes into play. The site preparation process can include constructing access roads for transporting parts, clearing areas where turbines will be erected, and finally, preparation of the foundations including excavation, formworks installation and pouring concrete and rebar. When a turbine is ready to be erected, construction happens on-site, assuming all turbine parts, from the tower to the nacelle and blades have arrived on time and ready for attachment, along with specialized construction equipment required for assembly.
The massive turbine parts can be a significant burden for transport ships, trailers, and the routes on which they travel, creating a significant risk for damage or loss en route to the site. Possible issues that could arise during water transportation of a wind turbine include a load shifting on a ship, which can cause damage to the blades, or a piece of equipment falling into the water at the port. Potential snags with land transportation include a truck hauling equipment getting stuck in soft soil, a landslide or road collapse due to the weight of the equipment, or a trailer overturning during transport, causing equipment to fall off the trailer entirely. Identifying the necessary turning radius and ensuring roads are suitable for handling the weight of the equipment is critical.
As wind projects continue to grow in scale, turbines are getting bigger, and so is the equipment required to build them. There is currently a limited supply of contractors' equipment that meets the needs of the wind sector within Canada and around the world. Supply chain issues related to availability of turbine parts and construction equipment are added risk factors to be considered. A well thought out site delivery plan, including contingencies for unavailable equipment, is imperative. It is also important to have a good knowledge of experienced construction companies, contractors and well-made construction equipment.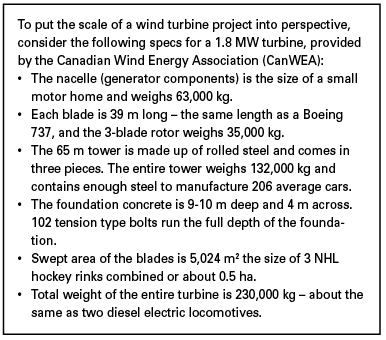 When a wind turbine is operational, ongoing preventive maintenance is vital to sustained production and business continuity. At this point it is necessary to have access to equipment and spare parts for repair when available or required. Common operating issues include breakdown within the nacelle, including the generator, gearbox or transformer units, all of which are critical to turbine function. Timely access to cranes and replacement parts is crucial in the event of equipment breakdown. Failure to obtain access to a crane or replacement equipment in a timely manner can seriously impact business continuity as turbine replacement can take up to an average of two years. To minimize the business interruption element as much as possible, it is important to understand what parts are stored nearby, or at least in the country as opposed to parts that may have to be sourced from Europe or other overseas warehouses.
As the industry grows in Canada, some European parts manufacturers have established Canadian operations, which make it easier to meet supply needs. To anticipate potential shipping delays, it is useful to know which manufacturers have set up shop in Canada, as opposed to those who operate overseas only.
If the list of considerations seems daunting, keep in mind a few key questions: How remote is the location and what are the limits to access? What are the issues with the supply chain for parts and construction equipment? What is the transportation method, and are there additional considerations (i.e. building road access) to be factored in? Who are the manufacturers, construction companies and contractors, and what issues exist with quality or availability of parts or services?
For an underwriter, it is important to be familiar with the multitude of factors influencing each phase of a wind farm's life cycle. The potential challenges outlined in this article are certainly not exhaustive, as each project is unique and we continue to build our knowledge and expertise in this emerging industry. With these challenges comes vast opportunity; with increasing government support and investment in Canadian wind power, this sector will continue to grow, promising a diverse and interesting set of risks to write.