Åkerströms Björbo Launches an Entirely New Era
of Radio Remote Control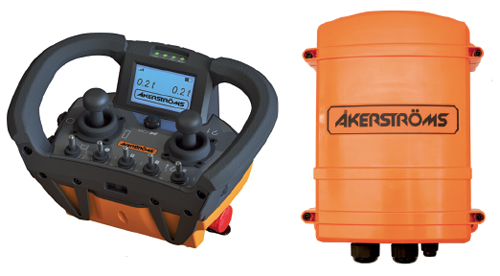 Åkerströms Björbo AB is taking a major step forward with its launch of an entirely new Era of radio remote control products. First to be launched is a receiver and a transmitter worn around the waist for industrial use, generally in cranes and overhead cranes. The new product series belongs to the Remotus family of radio control products for safety critical industrial and mobile applications. The series is described as robust, flexible and reliable with a Swedish design and good ergonomics.
Åkerströms is now launching two members of the new series: a transmitter and a receiver from the new series named Era to complement the existing series Remotus Jupiter (for standard products) and Remotus Mercury (for customized products). The Era 100 transmitter is worn around the waist and can control up to six movements. The receiver, model Rx160, is wall-mounted and contains 16 outputs (4 changing and 12 open contacts, including 6 safety relays). The Era 100 and Rx160 are the first of a new series of robust radio remote control products to be launched throughout the year.
The transmitter is available in both a standard model and a customized model, in which functionality, design and layout can all be tailored to the customer's needs. The transmitter is equipped with two CPUs and can be fitted with a wide variety of control boxes. The LCD screen provides a clear, graphical user interface for ease of use. The display has a replaceable self-healing display shield and is readable in sunlight. The carefully considered Swedish style of the transmitter includes careful attention to ergonomic design. The transmitter is highly robust with a sturdy rubberized handle for good grip. Metal feet protect the transmitter from damage and wear.
The transmitter and its receiver are equipped with two-way communication as standard and can be operated over several radio frequencies: 433-434 MHz, 863-870 MHz, 902-928 MHz as well as 2.4 GHz, which allows them to potentially be used anywhere in the world. The receiver has two safety outputs and very high security on transmitted radio signals. The double microchips monitor each other, and each signal is verified before the functionality is activated; diagnostics are performed during operation. The safety stop feature is approved as per EN ISO 13849-1 Cat 3 Pl d, and it is possible to receive safety approval for the movements and functionality under the same standard.
The Era series is designed for very rough, exposed environments in which stress and strain such as large temperature ranges, dust, vibrations, oil and moisture are common. The products are rated for IP protection class IP65-IP67, reflecting their excellent ability to repel moisture and dust.
"Right now we are focusing intensively on developing this product series," said Andreas Hedström, sales manager at Åkerströms Björbo. "This new family of radio control products will open new doors for us. Perhaps we won't be ready to control the sun for a while, even considering our new advertising campaign," continued Mr. Hedström, "but this new, even more advanced product range will strengthen our market position at home, in the Nordics and further abroad. Of course we could never do it without the help of our skilled distributors around the world."
Source: Akerström Björbo AB