World's Smallest Hydrodemolition Robot
The world's smallest and most flexible Hydrodemolition robot, the Aqua Cutter 410, offering increased versatility for working in confined areas such as concrete sewer pipes, is introduced by Aquajet Systems; retaining all its "big brothers" features.
Hydrodemolition specialist Aquajet Systems AB launched the world's smallest Hydrodemolition robot, the Aqua Cutter 410 at bauma 2013; offering increased versatility, productivity and ease of operation.
The Aqua Cutter 410 has been designed for Hydrodemolition applications in confined areas such as concrete sewer pipes in urban locations, small tunnels and inside buildings with restricted space.
With dimensions of just 2.0 m x 0.78 m x 0.99 m (LxWxH), the new robot can go through an ordinary door opening and operate inside a concrete pipe, on vertical, horizontal or overhead surfaces.
With a weight of just around 1,000 kg it can also operate from scaffolding.
Working typically with between 700 to 2,500 bar pressure and 60 to 180 l/min, the robot handles most concrete removal tasks on floors, walls and overhead applications.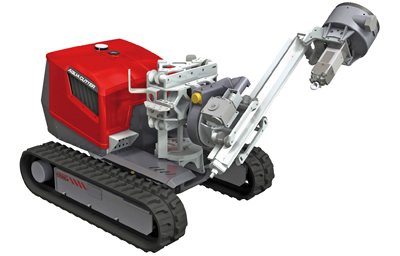 It will also replace many applications currently performed using manual handlances – a high pressure gun operating at 2,500 bar or more; providing a safer and more accurate operation with the robot.
The 410 robot features a number of tools including a rotor for surface preparation and work inside pipes, a single lance with a 1.5 m front scroud for surface removal and an hydraulically-operated articulated arm with a reach up to 4 m.
The first tool to be released is a tunnel operation kit that can operate in tunnels up to 3 m diameter. The kit is based on the Aqua Spine system which makes it extremely flexible since most of the Aqua Spine accessories can also be used.
The tunnel kit also features automatic detection of the distance to the tunnel surface making it easy to operate in uneven tunnel shapes or oval tunnels.
The Power Control Module (PCM) can be disconnected from the tracked crawler. This allows the crawler to be driven into unfriendly environments, for example small tunnels suddenly flooded by, heavy rains.
In this mode, the PCM is connected to the track crawler by a cord and the removal process controlled remotely. This is ideal when, for example, sewer pipes can be suddenly flooded. The work can continue and not be disrupted by the water.
The operator controls and monitors the operation by a remote radio controller so that the machine can be run from a safe distance; ensuring complete control over the robot.
Features of the proven Aqua Cutter 710 series of robots such as EDS (Equal Distance System), the ISC (Intelligent Sensing Control, and Smart Lance system have been updated and integrated in to the new 410 robot.
The Aqua Cutter 410 robot is equipped with the patented EDS. Regardless of the set lance attack angle, the system controls and maintains the nozzle distance from the concrete surface.
Maintaining an optimum distance, EDS ensures that no power is lost due to the nozzle being too far from the surface which will ensure a 15 – 20% increase in removal capacity.
The patented ISC is an advanced sensing system and features no electronics, such as sensors or cables, exposed to the moisture environs, and resulting in a more efficient production with fewer stops due to problems with sensors, etc.
The rugged 410 robot offers the same reliability, versatility and easy maintenance and low operating costs as Aqua Cutter 710 robot, and uses many of the same parts.
Source: Aquajet Systems AB