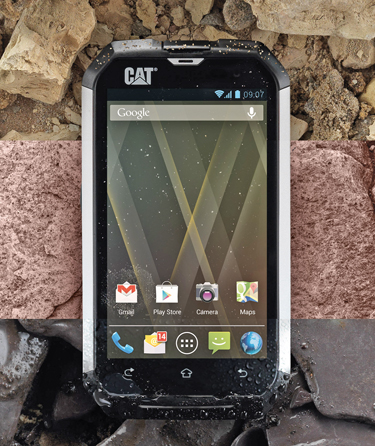 New Cat® Smartphone
Launches in North America

Bullitt Mobile Ltd., global licensee of Cat® phones for Caterpillar Inc., recently introduced the new Cat B15 smartphone in North America. The Cat B15 is designed to be the most progressive, durable and rugged device available on the market. Its robust design includes the ability to withstand a 180 cm drop and being submerged in up to 97.5 cm of water for 30 minutes. In addition, the 101 mm multi-touch screen can be used with wet fingers and the device is also dustproof and scratch resistant.
The Cat B15 is designed for a diverse audience from outdoor adventurers (snowboarders, mountain bikers, etc.) to industrial/construction workers or anyone looking for a phone that withstands dropping, bumping, water and dust. The new device runs on Android 4.1 Jelly Bean and dual core 1 GHz processor.
The Cat B15 is now available online and is priced at $349.
Source: Bullitt Mobile Ltd.