KOBELCO Construction Machinery USA
Plans Return To ConExpo in 2014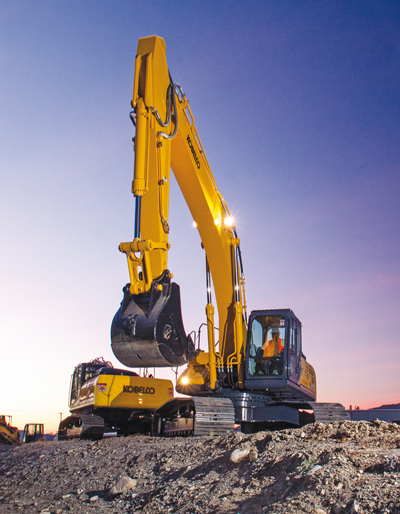 KOBELCO Construction Machinery USA is pleased to announce its plan to exhibit at CONEXPO-CON/AGG 2014 (ConExpo). This will mark the company's participation as an independent brand for the first time in ten years. KOBELCO will celebrate its return to the show from March 4 – 8, 2014 at the Las Vegas Convention Center in Las Vegas, Nevada with an expansive 3,220 m2 outdoor exhibit in Silver Lot 2, unveiling their full range of 1.5 t to 80 t excavators, as well as the company's advanced excavator technologies.
"ConExpo 2014 couldn't come at a better time for KOBELCO," states Ron Hargrave, vice president of sales and marketing for KOBELCO Construction Machinery USA. "Within the first year of reopening our doors in North America, we'll have the opportunity to showcase our world class product line and after-market services to the more than 130,000 contractor and dealer attendees. ConExpo will certainly help us continue our forward momentum in recapturing KOBELCO's market share in the United States and Canada."
KOBELCO has long been known for its quality line of excavators. While many companies manufacture multiple lines of equipment, KOBELCO dedicates their research and development dollars to improving and enhancing their singular product line, ensuring they deliver excavators that can withstand the day-to-day rigors of demanding jobsites, while providing operators with all the production and comfort features required for a profitable day's work.
According to George Lumpkins, product marketing manager for KOBELCO, "The exhibit will be a blend of our distinctive excavators and the personal customer service we strive to deliver, as well as a demonstration of the culture of our company. A culture that is Driven By Passion everyday for the excavators we design, manufacture and bring to market."
KOBELCO Construction Machinery USA is dedicated to producing a full range of crawler excavators for the rental, landscape, construction, aggregate, roadbuilding, material handling, site preparation, recycling and ancillary markets, including zero tail swing, standard, long-reach and compact models. KOBELCO machines are well-known for their advanced technologies including an innovative noise and dust reduction system, advanced hydraulic circuitry for reduction of pressure loss and superior fuel efficiency. Contractors and dealers attending ConExpo should be sure to mark the KOBELCO booth as a must-see destination.