The Concentrated Power of Mineral Processing
Kleemann presented a highlight at this year's bauma with the global première of the new generation of mobile jaw crushers in the Contractor Line, the new Mobicat EVO series. But apart from this there was still a considerable amount to see at Kleemann: With a total of five mobile crusher plants on display, Kleemann showed how comprehensive the spectrum of applications of the Kleemann product range is.

The two representatives of the Kleemann Quarry Line are designed especially for tough use in the area of natural stone. The Mobicat MC 125 Z mobile jaw crusher is a very powerful primary crusher, which with a crusher inlet opening of 1250 x 1000 mm and a weight of approx. 130 t performs its work also in adverse conditions and processes up to 600 t/h. The Mobicone MCO 11 S mobile cone crusher is a secondary crusher for the second or third crushing stage and with its integrated triple-deck screening unit and the closed material cycle enables production of three defined final grains.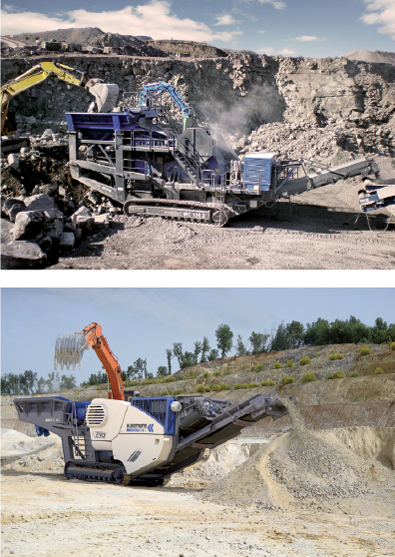 The Mobirex MR 130 ZS EVO mobile impact crusher, the star of the Kleemann stand at the previous bauma, has more than established itself since its launch in 2010 in the Contractor market. The MR 130 and its sister model MR 110 have proven themselves both in natural stone and in diverse recycling applications to the extent that they now belong to the most powerful and efficient representatives in their class.
The two completely redeveloped mobile jaw crushers MC 110 Z EVO and MC 110 R EVO which will be added to the Contractor Line of Kleemann from May of this year, also want to offer this evidence. Similar to the impact crushers in the Mobirex EVO series no bolt was left untouched here. With its crusher inlet widths of 1100 x 700 mm the plants are targeting the so-called 1100 class, which is the largest individual segment in the market of mobile crusher plants.
With the new plants Kleemann has provided the basis to also conquer further market shares in this class and establish itself over the long term.
Kleemann GmbH is a member company of the Wirtgen Group, an expanding and international group of companies doing business in the construction equipment industry. This Group includes the four well-known brands, Wirtgen, Vögele, Hamm and Kleemann, with their headquarters in Germany and local production sites in Brazil, India and China. Worldwide customer support is provided by its 55 own sales and service companies.
Source: Kleemann GmbH