Continental Tires Offered as Original Equipment
for Freightliner M2 Trucks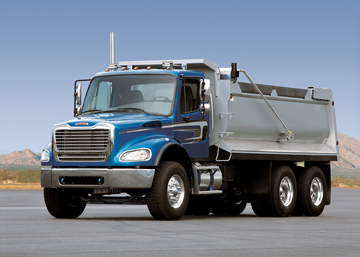 Continental Tire North America, Inc. and Freightliner Trucks are pleased to announce that Continental tires will now become standard original equipment on all Freightliner Business Class® M2 medium-duty trucks.
In addition, Continental's lineup of commercial vehicle tires will become optional on other Daimler Trucks North America LLC brands including Western Star trucks, Thomas Built buses, Freightliner Custom Chassis Corporation chassis and all other Freightliner vehicles.
"The addition of Continental's truck tires to the already impressive list of original equipment on the Business Class M2 trucks completes Freightliner's commitment to quality and performance," said Melissa Clausen, Freightliner Trucks' director of product marketing.
Freightliner customers will soon be able to choose from new offerings from Continental to meet their truck tire needs. Continental will be launching a redesigned regional steer tire, the HSR2, which replaces Continental's best-selling HSR, introduced in 2002. Produced in Continental's Mt. Vernon, Illinois. award-winning manufacturing plant, the HSR2 is set to maintain Continental's industry benchmark in the regional steer application. The updated tread compound is designed to increase mileage by 15% over the current HSR and improves cut and chip resistance for optimal performance.
Freightliner customers for waste hauling, construction and other on/off highway service applications will also soon be able to choose Continental's newest tire for urban needs, the HSU2 (Heavy Steer Urban) which replaces the HSU model. The HSU2's enhanced bead design enables 4500 kg capacity at 105 km/h.
Available in multiple cab configurations, Freightliner's Business Class M2 medium-duty trucks support a wide range of bodies and chassis-mounted equipment, making them ideal for a wide variety of applications such as towing, pickup and delivery, food and beverage distribution, emergency services, utility or garbage collection.
Source: Continental Corporation